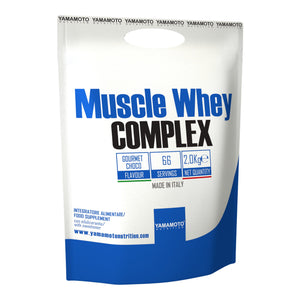 YAMAMOTO NUTRITION Muscle Whey COMPLEX 2kg/4.4 lbs.
Regular price £34.99 Sale
Description
Muscle Whey COMPLEX is a whey protein concentrate food supplement, suitable for athletes performing intense physical activity. Protein contributes to the growth and maintenance of muscle mass. Whey protein naturally contains branched chain amino acids (BCAA).

Yamamoto® Nutrition Muscle Whey COMPLEX is a supplement based on Volactive® Ultra Whey 80 WPC80 quality whey protein concentrate.
The first-generation whey protein powders contained 30-40% protein and high amounts of lactose, undenatured proteins and fats. Modern concentrates now contain up to 70-80% protein, with reduced amounts of lactose and fats.
Many people have the impression that a WPC is inherently inferior to an isolate. This is simply UNTRUE.
Although WPCs contain less protein than an isolate, a high-quality WPC contains all kinds of useful compounds that are not found in isolates.

Good concentrates contain much higher levels of growth factors, such as IGF-1, TGF-1 and TGF-2. They contain much higher levels of various phospholipids and various bioactive lipids, such as conjugated linoleic acid (CLA), and often contain higher levels of immunoglobulins and lactoferrin.

The disadvantages of WPCs are that they have a slightly lower protein content than an isolate, and contain higher levels of fats (although these fats can have beneficial effects) and higher levels of lactose.
People should not feel that a well-made WPC is inherently inferior to a whey protein isolate (WPI), and it may in fact be a superior choice, depending on the person's goals.
For example, some people do not tolerate lactose well, or are watching the amount of fat consumed in their diet, while others may want the potentially beneficial effects of the additional compounds found in a high-quality concentrate.

KEY BENEFITS
20 grams of protein per portion (chocolate flavour)
5.1 grams of BCAAs per portion
Low sugar content
WHY CHOOSE IT
Practical high-quality proteins that help develop and maintain muscle mass: with just 2.5 grams of fat (chocolate flavour), 2.2 grams of carbohydrates (chocolate flavour) and only 87 calories per portion.
It also includes essential amino acids, including 5.1 grams of BCAAs, naturally present in proteins and which contribute to fitness and recovery of new muscle mass.
Nutritional information    
Nutritional facts (Gourmet Choco)

Per 100 g
Per 30 g
Energy
1591 kJ/377 kcal
371 kJ/87 kcal

Fats

8,5 g
2,5 g

of which saturates

4,8 g
1,4 g
Carbohydrate
7,3 g
2,2 g
of which sugars
6,1 g
1,8 g
Fibre
3,5 g
1,1 g
Protein
68 g
20 g
Salt
0,93 g
0,28 g
Ingredients: whey (milk) protein concentrate (contains emulsifier: soy lecithin), fat-reduced cocoa powder, flavouring, thickener: xanthan gum, salt, sweetener: sucralose.
Amino Acid profile per 100 g

Alanine
Arginine
Aspartic acid
Cysteine
Glutamic acid
Glycine
Histidine
Isoleucine
Leucine
Lysine
Methionine
Phenylalanine
Proline
Serine
Threonine
Tryptophan
Tyrosine
Valine


3,31 g
1,66 g
7,26 g
1,47 g
11,90 g
1,21 g
1,32 g
3,98 g
6,98 g
6,08 g
1,37 g
2,14 g
3,83 g
3,41 g
4,61 g
1,03 g
1,83 g
3,83 g
How to use: add 3 scoops (30 g) in 300 ml of water or other favourite beverage and take once a day.
Warnings
WARNINGS: do not exceed the recommended daily dose. Food supplements should not be used as a substitute of a varied diet. A varied and balanced diet and a healthy lifestyle are important. Keep out of reach of young children. Do not use in pregnant in children or for prolonged periods without consulting a doctor. Store in a cool, dry place at room temperature. Avoid exposure to heat sources and sunlight. The minimum durability refers to the product properly stored in unopened container. Do not dump after use.