Collection:

NXT Nutrition
Since our inception in 2013, NXT Nutrition have been committed to delivering high-quality, innovative sports nutrition formulas that cater to athletes and everyday gym-goers.
Our reputation for effective products that work transcends the cookie-cutter approach of other companies simply copying popular trends for profits, and because of this we have been able to develop and nurture an extensive range of cutting-edge formulas.
After years of manufacturing for other sports nutrition brands, we decided to put our knowledge and experience to better use: creating a brand that people can be a part of, that's products deliver results, that costs leaves you satisfied. It's time for the NeXT generation of sports nutrition.
NXT Beef Isolate 1.8kg
NXT Beef Isolate RTD 12x500ml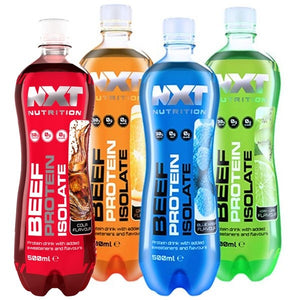 NXT Nutrition TNT Nuclear Shots 60ml x 12