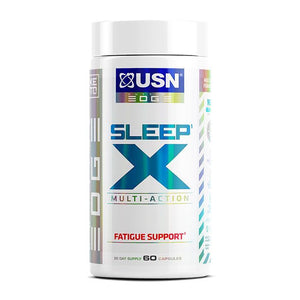 USN Sleep X 60 capsules Sleep Aid(30 servings)
Regular price £19.99 £9.99 Sale
Sleep X from USN is a multi action, cutting edge fatigue support supplement. Getting a full nights sleep is key for any recovery, making bed time the perfect window to use this multi-action formula which works whilst you rest.
Magnesium contributes to normal psychological function a eduction of tiredness and fatigue and normal functioning of the nervous system. Vitamin E contributes to the protection of cells from oxidative stress.
Directions:
Take 2 capsules daily before bedtime.
Ingredients:
Always read the label *
INGREDIENTS: KSM-66 Ashwagandha® (Withania somnifera), Magnesium Oxide, L-Theanine, Capsule [Hydroxypropyl methyl cellulose Colour (Titanium Dioxide)], 5-HTP (Griffonia simplicifolia Seed Extract), Dl-Alpha Tocopheryl, Zinc Bisglycinate, Anti-caking agents (Silicon dioxide, Magnesium stearate), Nicotinamide, BioPerine® (Black Pepper Extract 50:1).
Suitable for:
Vegans
Advisory information:
ALLERGENS: No common allergens have been added. IMPORTANT NOTICE: As with all supplementation, please consult your physician first (especially if you have a medical condition). Do not exceed the recommend daily dose (1 serving/2 capsules). Food supplements should not replace a varied, balanced diet and healthy lifestyle.
Nutritional Information
Per Capsule / 2 Capsules / *%RI:
Vitamin E
6mg / 12mg / 100%
Niacin
8mg / 16mg / 100%
Magnesium
88mg / 175mg / 47%
Zinc
5mg / 10mg / 100%
KSM-66 Ashwagandha
150mg / 300mg
L-Theanine
125mg / 250mg
5-HTP (Griffoina Seed Extract)
101mg / 202mg
BioPerine (Black Pepper Extract 50:1)
5mg / 10mg