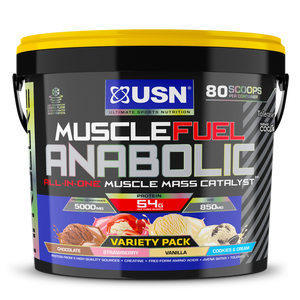 USN Muscle Fuel Anabolic Variety Pack 4kg ( Now only available in 4kg size )
Regular price £54.99 £59.99 Sale
Description
Nutritional Information
Directions
Part of the Hardcore Series, the Muscle Fuel Anabolic is the ultimate All-In-One shake, which provides you with a great tasting muscle mass catalyst.
Whilst supporting muscle growth and maintenance, this indulgent shake can also provide you with an increased physical performance during those intense training sessions.
Goes well with...
Energy: 564 kcal / 2390 kl
Fat: 3.2 g

of which Saturates: 2.1 g

Carbohydrate: 77 g
Fibre: 3.6 g
Protein: 55 g
Salt: 1 g
Vitamin A: 224 µg
Vitamin D: 1.2 µg
Vitamin E: 4.8 mg
Vitamin C: 47 mg
Thiamin: 1.3 mg
Riboflavin: 1.5 mg
Niacin: 14 mg
Vitamin B6: 1.2 mg
Folic Acid: 150 µg
Vitamin B12: 0.6 µg
Biotin: 11 µg
Pantothenic Acid: 2.8 mg
Potassium: 427 mg
Calcium: 717 mg
Phosphorus: 379 mg
Magnesium: 119 mg
Iron: 5.1 g
Zinc: 2.5 mg
Copper: 0.2 mg
Amino Acids and Other:
Creatine: 5 g
L-Glycine: 1.1 g
Beta-Alanine: 1 g
HMB: 1 g
Taurine: 0.4 g
L-Glutamine: 0.3 g
Glutamine Peptide: 50 mg
Avena Sativa (Green Oats): 100 mg
Tolerase: 1500 µg
Alanine: 1.938 g
Arginine: 2.304 g
Aspartic Acid: 4.941 g
Cystine: 1.007 g
Glutamine: 8.061 g
Glycine: 2.436 g
Histidine: 1.136 g
Isoleucine: 2.4 g
Leucine: 4.595 g
Lysine: 3.353 g
Methionine: 0.767 g
Phenylalanine: 1.848 g
Proline: 2.477 g
Serine: 2.471 g
Threonine: 2.127 g
Tryptophan: 0.755 g
Tyrosine: 1.448 g
Valine: 2.501 g
Other Ingredients (based on Chocolate Flavour)
Carb Matrix (Maltodextrin, Dextrose Monohydrate, Fructose), Protein Matrix (Whey Protein Concentrate (Milk), Soya Protein Isolate, Milk Protein Isolate, Egg Albumen, Calcium Caseinate (Milk), Cocoa Powder, Creatine Monohydrate, Flavouring, Thickeners (Guar Gum, Xanthum Gum), Starch, L-Glycine, Shortening Powder (Palm Oil, Whey (Milk), Milk Protein, Stabiliser (Sodium Tripolyphosphate), Anti-Caking Agent (Silicon Dioxide), Antioxidant (Tocopherol)), ß-Hydroxy ß-Methylbutyric Acid (HMB), Beta-Alanine, Branched Chain Amino Acid (BCAA) Powder 2;1;1, Tri-Calcium Phosphate, Magnesium Lactate, Tri-Potassium Citrate, Stabiliser (Cellulose Gum), Sodium Chloride, Taurine, Sweeteners (Sucralose, Acesulfame-K), L-Glutamine, Avena Savita, Oats (Gluten), Vitamin Blend (Ascorbic Acid, Pteroyl-L-Glutamate, D-Alpha Tocopherol, Nicotinamide, D-Calcium Pantothenate, Riboflavin, Pyridoxine Hydrochloride, Thiamin Hydrochloride, Retinyl Palmitate, Methylcobalamine, Biotin, Cholecalciferol), Glutamine Peptide (Wheat (Gluten), Anti-Caking Agent (Silicon Dioxide), Zinc Bisglycinate, Tolerase L (ph Stable Lactase)
Add 3 heaped scoops to 500-600ml of cold water. Use a blender or hand held shaker for about 30 seconds.
Have 1 to 2 servings daily (servings may be halved).
People under 80kg's:
Have 2 servings per day for the first 5 days and only 1 serving per day there-after.
People over 80kg's:
Have 2-3 servings per day for the first 5 days and 1-2 servings per day there-after.