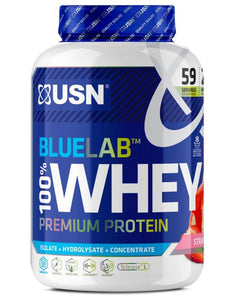 USN Blue Lab 100% Whey Protein 2kg
Regular price £54.99 £49.99 Sale
Description
Nutritional Information
Directions
USN Blue Lab Whey is arguably USN's best product to date!
Comprised of Whey Protein Concentrate, Isolate and Hydrolysate, USN Blue Lab Whey delivers 26g Protein per serving, 5800mg BCAAs and just 1.6g Sugar, making this perfect for lean muscle maintenance. USN Blue Lab Whey is the new premium offering in Whey Protein. Maximise your muscle development and use a product taken by Pro's worldwide, available in four easy-mix, great tasting flavours; Caramel Chocolate, Chocolate, Strawberry and Vanilla.
Serving Size: 1 Scoop (34 g)
Servings Per Container: 59
Energy: 555 kJ / 131 kcal

Protein: 26 g

Carbohydrate: 2.8 g

Fat: 1.9 g

Salt: 0.4 g

Fibre: 0.2 g

Fibre: 0.2 g

Potassium: 121 mg

Calcium: 154 mg

Phosperous: 60 mg

Magnesium: 11 mg

Alanine: 1.3 g

Arginine: 0.7 g

Aspartic Acid: 2.7 g

Cystine / Cysteine: 0.6 g

Glutamic Acid: 4.5 g

Glycine: 0.5 g

Histidine: 0.4 g

Isoleucine: 1.6 g

Leucine: 2.7 g

Lysine: 2.4 g

Methionine: 0.5 g

Phyenylalanine: 0.8 g

Proline: 1.7 g

Serine: 1.2 g

Threonine: 1.8 g

Tryptophane: 0.4 g

Tyrosine: 0.7 g

Valine: 1.6 g
Other Ingredients
Premium Whey Protein Blend:

Whey Protein Isolate
Whey Protein Hydrolysate
Whey Protein Concentrate
Flavouring, colouring, stabilisers (Guar gum and Xanthan gum), sodium chloride, sweetener (sucralose) Tolerase L (pH-stable lactase)
For best results, take delicious Blue Lab Whey throughout the day, before or after training.
Mix 1 scoop (34 g) into 150-200 ml of cold water. Shake well for 30 seconds, settle for 60 seconds, shake again before drinking.
Adjust your protein intake from 1-5 servings depending on your physical goal and protein requirements.