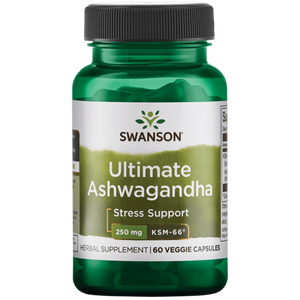 Swanson Ultra Ultimate Ashwagandha KSM-66 250mg 60 veggie capsules
Regular price £14.99 £9.99 Sale
One of the things that make this time-honored adaptogen so powerful is the alkaloid constituents hidden within it known as withanolides. When combined with both the water and fat soluble nutrients of the plant they come to offer the most holistic Ashwagandha formula yet. Working by promoting balance throughout the body, this remarkable adaptogen actually amplifies the body's self-regulatory abilities. Key systems such as the immune, reproductive, neurological and endocrinal are all somehow ameliorated through the introduction of Swanson Ultra Ultimate Ashwagandha. Reduces anxiety and stress levels. Reduces Cortisol levels and can inhibit stress eating stress, anxiety, cortisol levels and stress-related food cravings Enhances cognitive function, including memory Increases physical strength, endurance and even muscle recovery rate Has even been proven to help improve improve sexual function in both men and women A very modern update of a completely ancient herbal remedy, Swanson Ultra Ultimate Ashwagandha is the ideal way to restore balance to your hectic everyday life. Enjoy its natural benefits and experience the true power of Ayurveda for yourself.
Supplement Facts Serving Size 1 Capsule Amount Per Serving % Daily Value KSM-66 Ashwagandha Extract (made with certified organic ashwagandha)(Withania somnifera)(root) 250mg * *Daily Value not established. Other Ingredients:  Hypromellose (vegetable capsule), rice bran, silica, rice extract.As a dietary supplement, take one vegetarian capsule one to two times per day with water.
Warnings: Not suitable for anyone who is pregnant or nursing If you are already taking other medication or suffer from any pre-existing conditions which you believe may contradict this supplement then ALWAYS seek advice from your doctor or health practitioner before taking. Do not exceed recommended dose. Do not take if outer seal is broken or damaged upon purchase.