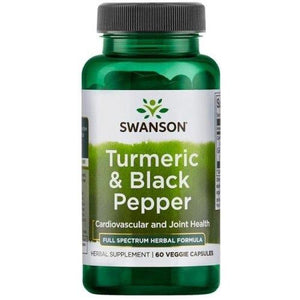 Swanson Turmeric & Black Pepper - 60 vcaps
Swanson Turmeric & Black Pepper - 60 vcaps
Supports joint health, movement and physical function Offers antioxidant support to neutralize free radicalsBlack pepper provides increased bioavailabilityOur capsules feature a potent 600 mg of turmeric fortified with black pepper to ensure optimal bioavailability.
Since ancient times, India's Ayurvedic herbalists have used turmeric as a cardiovascular and liver health tonic and to promote joint comfort and mobility.
Modern science has revealed that turmeric contains unique phytochemicals known as curcuminoids, which have powerful antioxidant effects and boost the activity of the body's endogenous antioxidant enzymes, delivering a one-two punch to knock out free radicals.