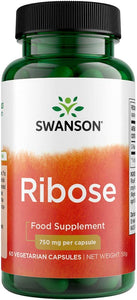 Swanson Ribose 750mg capsules
Regular price £14.99 Sale
Swanson Ribose 750mg capsules
Critical support for cellular energy and repair Promotes endurance and recovery Vegetarian What Swanson Ultra 100% Pure Ribose? Ribose is a simple sugar found naturally in every living cell of the body and has two functions; to provide the structural backbone to the cellular compounds purines and pyrimidines which are required for our genetic material (DNA and RNA); and two, to support the production of ATP (adinosine triphosphate), the source for cellular energy, the power for all our bodily functions.
The rate of supply of Ribose, determines the rate in which fundamental cellular compounds can be made, thus determining the availability of energy to our cells and tissues. Food is a good source of Ribose as it is synthesised from glucose, but it is a slower process to release the energy our cells require.
This become particularly more important when we exercise, which puts extra pressure on our muscles and our heart and can mean they take longer to recover and repair. Ribose supplementation is a great way to quickly re-build cellular ATP and return energy levels back to normal.
Research suggests that this can be up to 340% to 430% in muscles and may also improve the cells ability to salvage and re-use ATP and AMP (Adenosine monophosphate) by 700%. Bioenergy Ribose(R) from Swanson Health Products, a popular US manufacturer and supplier of dietary and herbal supplements, is supplied in vegetarian capsules and carries the Swanson guarantee of purity and potency.
Swanson 100% Pure Ribose are supplied in 750mg vegetarian capsules. What is Swanson Ultra 100% Pure Ribose used for?
Ribose supplements are a fast and effective way to replace the energy lost in your cells and tissues after exercise. With research suggesting that energy recharge can be in as little as 6 to 22 hours with Ribose supplements compared to as much as 26 to 93 hours without - it is no wonder that Bioenergy Ribose is becoming a popular choice for athletes and anyone undertaking regular exercise.
Why should you consider adding ribose supplements into your diet? Topping up your Ribose intake will help to sustain cellular energy and repair. Ribose promotes physical endurance and speeds up recovery.
Ribose may help to reduce cramping and fatigue Swanson supplies Bioenergy Ribose as vegetarian capsules. What is the recommended dose of Swanson Ultra 100% Pure Ribose? Swanson recommend that as a dietary supplement, you should take one Swanson Ultra 100% Pure Ribose vegetarian capsule one to two times per day with water.
You can increase to three capsules three times per day for maximum energy effect. Special Precautions! One Swanson Ultra 100% Pure Ribose capsule contains 750mg of Bioenergy Ribose(R) (D-ribose). Other ingredients include: Cellulose (vegetable capsule) and rice flour. It may also contain one or both of the following: magnesium stearate, silica. Bioenergy Ribose(R) is a registered trademark of Bioenergy, Inc. Remember that natural therapies carry a risk of contraindications when combined with various treatments and conditions.
If you are already taking any other health products, are hypoglycemic or diabetic, then it is ESSENTIAL you discuss the use of dietary supplements with your healthcare practitioner first.
Do not take if you are pregnant or nursing. Taking a dietary supplement is not to replace a food diet, but only help to optimise your intake of the nutrient. If you notice any changes in your health, then stop use and seek professional attention. Stop use if you experience gastrointestinal discomfort, nausea or headache. Do not exceed the recommended dose.
Do not use if the outer seal is broken or damaged at the time of purchase. For safety, keep out of reach of children.