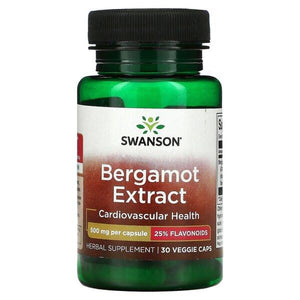 Swanson Bergamot Extract
Regular price £11.99 Sale
Swanson Bergamot Extract Promotes healthy cholesterol levels
Multidimensional support for cardiovascular healthPreserves arterial health and elasticitySupports healthy CoQ10 levelsBergamot is a small, fragrant citrus fruit similar to an orange but colored more like a lemon.
While considered inedible due to its sour bitterness, it is highly sought after for its essential oil which has been used for centuries by perfumeries, chefs (the oil is used to add fragrance and flavor), and traditional herbalists.
Recent advancements in healthcare research are finding new applications for bergamot oil, which contains biologically active flavonoids. Add Swanson Superior Herbs Bergamot Extract to your supplement regimen for a holistic approach to cholesterol maintenance.