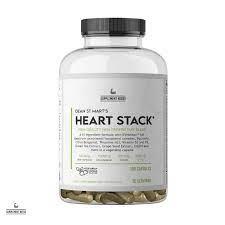 Supplement Needs Heart Stack 180caps
Regular price £49.99 Sale
Heart Stack (Formerly C-V Stack) is a fully transparent, non proprietary product containing 15 ingredients at efficacious doses as part of the Supplement Needs Dean St Mart Health range.
Formulated by Dean St Mart using a host of antioxidant ingredients such as EvNolMax full spectrum tocotrienol/ tocopherol Vitamin E complex, Pycrinil trademarked artichoke extract, Citrus Bergamot, Licorice Dry Extract, Black Seed Powder, Garlic Extract (Allicin), Olive Leaf Extract, Pomegranate Extract, Green Tea Extract, Co-Enzyme Q10, Astaxanthin, Vitamin D3 and K2, and Thiamine HCl.
Heart Stack has been designed to support C-V health; and is a core member of the Advanced Health Stack alongside Liver Stack and Kidney and Blood Pressure Stack.Heart Stack is designed to be used during periods when cardiovascular health support is required.
1 serving (3 capsules) is to be taken with a morning meal, with a 2nd serving (3 capsules) with an afternoon or evening meal.
Do not exceed the recommended dose.Heart Stack can also be stacked alongside SerraNatto+ and Lipid Pro+ for fully comprehensive C-V health stack.Lysine Powder and Vitamin C Powder are also beneficial additions to the Heart Stack.
Suitable for Vegetarians. Suitable for Vegans. Halal Certified.This product is manufactured in a facility that processes products containing nuts, milk, soy and fish