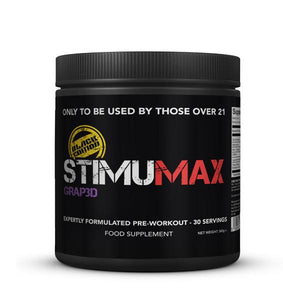 Strom Sports Stimumax Black Edition
Regular price £31.99 Sale
Strom Sports Nutrition StimuMax Black Edition 375g
What is Strom Sports Nutrition StimuMax Black Edition?
Strom Sports bring you their Black Edition of their extremely popular StimuMax. This pre-workout has been beefed up and now includes an added ingredient that will give you sustained and higher energy level.
What is the difference between the black edition and pro version of stimumMAX?
The pro version has Alpha GPC which is a highly bioavailable form of choline uséd by the body to increase the production of the "learning" neurotransmitter acetylcholine. Alpha GPC improves attention, memory recall, mood, and the "mind-muscle" connection.
Black edition has Kigelia Africana which will enhance energy levels, cognitive function, decrease appetite and improve bronchodilation. It has also been shown to increase levels of dopamine and noradrenaline; two hormones responsible for making you "feel good" and allowing you to perform in stressful situations.
What is in this hardcore pre-workout?
The product contains high levels of caffeine alongside proven pump and energy ingredients including citrulline malate, beta alanine, N-Acetyl-L-Tyrosine, caffeine and juglans regis. 
What are the key features of StimuMax Black Edition
No proprietary blend
Good for sustained and high energy
Stimulated by two different sources
Strom Sports Nutrition StimuMax Black Edition nutritional information  (Food Supplement)
Serving Size: 1 Scoop (12g)
Servings: 30
| | |
| --- | --- |
| Typical Values | Per 1 scoop (12g) |
| Citrulline Malate | 6000mg |
| Beta Alanine | 3200mg |
| N-Acetyl-L-Tyrosine | 1000mg |
| Caffeine | 250mg |
| Jugulars Regia Extract | 200mg |
| Keiglia African (Sausage Tree Extract) | 200mg |
Ingredients
Citrulline Malate, Beta Alanine, N-Acetyl-L-Tyrosine, Caffeine, Jugulars Whole Fruit (WALNUT), Keiglia African (Sausage Tree Extract), Maltodextrin, Citric acid, Sweetener (Sucralose), Green Apple Flavouring, Colouring, silicone dioxide
Manufactured
Manufactured in the U.K. for Strom Sports in an ISO 9001 approved facility. Unit 7E Centurion Trade Park, Kendal Road, Shrewsbury, Shropshire, SY1 4EH
Safety Advice
As with all supplementation, please consult your physician prior to use (especially if you have a medical health condition). Not recommended for anyone under the age of 18. Do not take this product is pregnant or breastfeeding. If you are taking any medication consult your doctor before taking this product. Do not exceed the suggested use. Keep out of reach of children. Keep in a cool dry place. This product is not intended to cure or prevent any disease or illness. This product should not be uséd as a substitute for a varied, balanced diet
High caffeine content.  Not recommended for children or pregnant or breastfeeding women (250mg)
Allergen Advice
For allergens see ingredients in bold.  A common allergen is present please consult ingredients also this product has been manufactured in a facility that processes wheat, egg, soya, tree nuts, peanuts and crustaceans