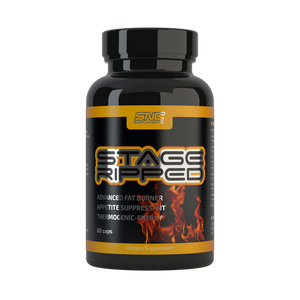 SNC Stage Ripped - 60 capsules
Regular price £39.99 £29.99 Sale
SNC Stage ripped is one of the strongest fat burners available. Using a potent blend of stimulants Stage Ripped can help increase energy whilst suppressing appetite. 
60 X 1 Capsule Servings

INGREDIENT INFORMATION 1 Capsule
Caffenine Anhydrous 225mg, Kola Nut Extract 3% Caffeine, 2% Theobromine 200mg, Guarana Seed Extract 125mg, 5-HTP 5-Hydroxytophan 75mg, Hordenine HCL 75mg, Paradoxine Grains of paradise. Std. to 12.5% 6- paradol 40mg, Vitamin B3 5mg 25%, Vitamin B6 as Pyridoxine HCL 5mg 357% Chromium Picolinate 100mcg 250%
INGREDIENTS
caffeine, kola Nut, Guarana Seed Extract, Vegetable Capsule (Hydroxypropyl Methlcellulose Purified Water), 5-HTP, Hordenine HCL, Paradoxine, Niacin, Pyridoxine HCL, Chromium Picolinate.