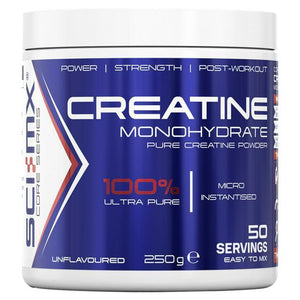 Sci-MX creatine 250g
Regular price £24.99 £19.99 Sale
Sci-MX creatine
Description
Creatine Monohydrate is a highly-researched ingredient that is a staple of many supplement regimes.
Power, Strength, Post-workout
100% Ultra Pure
Micro Instantised
Core Series Creatine Monohydrate
This Product is Vegan and Vegetarian
Who Should Use Creatine?
Athletes & Sportspeople
Those who want to maximise muscular performance
Gym Goers
Regenerates energy during intense exercise
Heavy Exercisers
For better results

The Science
Increases Physical Performance
Creatine is proven to increase physical performance in successive bursts of short-term, high intensity exercise.
Maximises Power
Used by elite athletes and sportspeople who require speed and power.
Science Driven
Creatine Monohydrate is the most scientifically studied form of creatine available.
More than just a supplement.
For expert tips and advice check out our social media, www.sci-mx.co.uk

ESSNA Member
Food Supplement
Contents packed by weight, some settling may occur.
Nutrition
Table of Nutritional Information
|   | Per 100 g | Per 5 g |
| --- | --- | --- |
| Creatine Monohydrate | 100 g | 5 g |
Information
Suitable for Vegans
Suitable for Vegetarians
Manufacturer
Sci-MX Nutrition,
4 Beacon Road,
Trafford Park,
Manchester,
M17 1AF,
United Kingdom.

AGP Trading B.V.,
PO Box 39,
6001 GT Weert,
The Netherlands.
Preparation
Prepare
Add one level scoop (5g) to 200 ml - 250 ml of water or fruit juice
Shake for 5 seconds
Settle for 10 seconds and enjoy

Use
1 x serving post-workout
1x serving with your highest carb meal or shake of the day
(Creatine uptake is greater with higher-carb meals)

Recommended no more than 2 x 5 g servings per day.
The beneficial effect is obtained with a daily intake of at least 3 g of Creatine.
Food supplements should not replace a varied and balanced diet and healthy lifestyle.