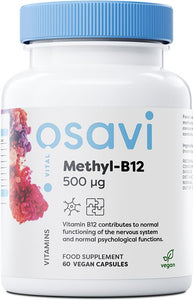 Osavi-Methyl B12-500ug - 60 vcaps
Regular price £9.99 £2.99 Sale
Osavi-Methyl B12-500ug - 60 vcaps
OSAVI METHYL-B12
Food supplement in the form of a hard capsule containing methylcobalamin, the most active vitamin B12. Vitamin B12 deficiency concerns mostly vegans, vegetarians, and older people. Vitamin B12 is one of those nutrients our body can't function without yet can't produce itself. The only way we can get vitamin B12 into our systems is through our diet.
The roles it plays range from supporting the immune system and red blood cell formation, and it may also help to improve our energy levels.First, if you're wondering how vitamin B12 benefits us, here's a snapshot. As well as supporting the immune system and red blood cell formation, studies also show that it may support bone health, vision, brain health, and your heart. Other potential benefits include helping with mood and depression. Our Methyl-B12 is a supplement containing the most active form of B12, methylcobalamin.Vitamin B12 is found in foods like fish, milk, eggs, and cheese.
For this reason, vegans and vegetarians, along with the elderly and those with stomach complaints like ulcers, are among those who may find it hard to keep on top of their daily intake. Our super-active vitamin methyl-B12 is suitable for vegans, and it makes it easy to get your daily dose with just one capsule, taken with a glass of water.
Why would someone benefit from supplementing with Methyl-B12 1000 µg?- Vitamin B12 contributes to the normal functioning of the nervous system and normal psychological function, and reduction of tiredness and fatigue.- Vitamin B12 contributes to normal energy-yielding metabolism and homocysteine metabolism.- Vitamin B12 contributes to the normal function of the immune system.- Vitamin B12 has a role in the process of cell division and contributes to red blood cell formation.What is special about capsules Methyl-B12 1000 µg?- Contains methylcobalamin an active form of vitamin B12.- Clean label - no unnecessary additives.- Suitable for vegetarians and vegans. - Packaging made of BioPET (30% of the plastic comes from sugar cane).