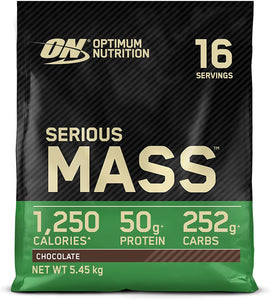 Optimum Nutrition Serious Mass 5.4kg
Regular price £59.99 Sale
Description
Nutritional Information
Directions
Optimum Nutrition Serious Mass is the ultimate weight gain formula. If you find it difficult to gain weight, Serious Mass can help you develop the physique you've always wanted! Without adequate calories and quality protein, you simply can't get any bigger, without enough fuel and muscle-building nutrients like protein, you simply won't grow!
Each delicious shake delivers an incredible 1,250 calories, but no added sugar. This includes 50g of blended protein to support building muscle and 250g of carbs to fuel your workouts. That's serious calories, serious protein and serious carbs...that's Serious Mass!
Serving Size: 2 Scoops (334 g)
Servings Per Container: 16
Energy: 1266 kcal / 5297 kJ

Protein: 50 g

Total Carbohydrates: 252 g

of which Sugars: 26 g
of which Dietary Fiber: 0.6 g

Fat: 6.2 g

of which Saturates: 3.2 g

Salt: 3.4 g

Vitamin A: 306 µg

Vitamin D: 1.9 µg

Vitamin E: 3.6 mg

Vitamin C: 22 mg

Thiamin: 0.53 mg

Riboflavin: 0.67 mg

Niacin: 6.9 mg

Vitamin B6: 0.76 mg

Folic Acid: 75.2 µg

Vitamin B12: 12 µg

Biotin: 56 µg

Pantothenic Acid: 2.2 mg

Potassium: 302 mg

Chloride: 1099 mg

Calcium: 417 mg

Phosphorus: 189 mg

Magnesium: 17.4 mg

Iron: 1.4 mg

Zinc: 0.81 mg

Copper: 0.10 mg

Manganese: 0.17 mg

Chromium: 39 µg

Iodine: 15.3 µg

Sodium: 416 mg
Other Ingredients
Cookies & Cream:

Maltodextrin, Whey Protein Concentrate, Calcium Caseinate (Emulsifier; Soy Lecithin), Flavourings, Cookie Crumb (1.4%) (Wheat Flour [Gluten], Sugar, Fully Hydrogenated Vegetable Fats; Palm and Rapeseed in varying proportions; Fat-Reduced Cocoa Powder), EGG Albumen, Sodium Chloride, Medium Chain Triglycerides, Dipotassium Phosphate, Creatine Monohydrate, Choline Bitartrate, L-Glutamine, Glutamine Peptides [Gluten], Whey Powder, Inositol, Vitamin Blend (L-Ascorbic Acid, Nicotinamide, DL-Alpha-Tocopheryl Acetate, Calcium D-Pantothenate, Pyridoxine Hydrochloride, Riboflavin, Thiamin Hydrochloride, Retinyl Acetate, Pteroylmonoglutamic Acid, D-Biotin, Cholecalciferol, Cyanocobalamin), Sweetener (Sucralose), Magnesium Oxide, Potassium Chloride, Ferric Pyrophosphate, Zinc Oxide, Cupric Gluconate, Manganese Sulphate, Chromium (III) Chloride Hexahydrate, Potassium Iodide
Add two heaped scoops (334g) of Serious Mass to a blender filled with 710 ml (24 ounces) of water. Blend for 45-60 seconds. Then add a few ice cubes and, if desired, other calorie contributing ingredients and blend for an additional 30-45 seconds.