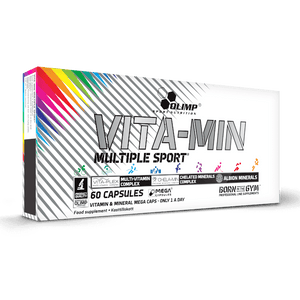 Olimp Sports Vita-Min Multiple Sport - 30 vitamin & 30 mineral capsules
Regular price £12.99 £9.99 Sale
Description
Nutritional Information
Directions
Olimp Vita-min Multiple Sport is a complex combination of vitamins (Vita-Plex Sport) containing among others the innovative new-generation PureWay-C vitamin C together with a complex of special extracts (HEPA-PROST DETOX) that support proper liver and prostate functioning. The second capsule (Chela-Min Sport), in the set contains highly assimilable, top-quality minerals in the form of amino acid chelates from ALBION. Both complexes Vita-Plex Sport and Chela-min Sport facilitate the fulfilling of the basic demand for the necessary nutritional microsubstances for a body burdened by intense physical output.
For an athlete's body, food is the first source of building material (proteins) and energy (carbohydrates and fats). However, as well as these three groups, there are many more nutritional microsubstances in food: vitamins, minerals, and vitamin-like substances, necessary in small amounts for the proper running of all vital processes, especially those related to the body's adaptation to physical activity and the development of great athletic form.
Chelation of minerals is a very important process for the binding of metal elements by weak organic acids, e.g. amino acids that enable the proper absorption of elements from the digestive system and their distribution to the vital functions utilizing them. Minerals from simple inorganic compounds are effectively inassimilable, and they are absorbed to the extent that they are able to form chelates with substances coming from the food that is consumed at the same time.
Serving Size: 1 Capsule Vita-Plex + 1 Capsule Chela-Min

Servings Per Container: 30
Vita-Plex:

VItamin A: 1000 µg
Vitamin D: 10 µg
Vitamin E: 24 mg
Vitamin C (PureWay-C): 290 mg
Vitamin B1: 19.4 mg
Vitamin B2: 19.6 mg
Niacin: 31 mg
Vitamin B6: 18.8 mg
Folacin: 400 µg
Vitamin B12: 23 µg
Biotin: 100 µg
Pantothenic acid: 12 mg
Citrus bioflavonoid 40%: 100 mg
Artichoke extract 5% cynarines: 80 mg
Pumpkin seed extract 5;1: 60 mg
Nettle extract: 60 mg
Green tea extract 55% EGCG: 60 mg
ALA (alfa-lipoic acid): 10 mg
Black pepper extract (95%): 1 mg

Chela-Min:

Magnesium: 190 mg
Calcium: 100 mg
Potassium: 75 mg
Zinc: 15 mg
Iron: 3 mg
Manganese: 3 mg
Copper: 500 µg
Iodine: 150 µg
Chromium: 150 µg
Selenium: 75 µg
Other Ingredients
Vita-Plex:

Vitamins (microencapsulated L-ascorbic acid (Pureway-C®) – vit. C, dl-alpha-tocopheryl acetate – vit. E, nicotinamide – niacin, D-biotin, retinyl acetate – vit. A, calcium D-pantothenate – pantothenic acid, pyridoxine hydrochloride – vit. B6, cholecalciferol – vit. D, pteroylmonoglutamic acid – folate, thiamin mononitrate – vit. B1, riboflavin – vit. B2, cyanocobalamin – vit. B12), citrus bioflavonoids, artichoke extract, pumpkin seed extract, nettle extract, green tea extract, alfa-lipoic acid, black pepper extract, bulking agent – microcrystalline cellulose, anti-caking agent – magnesium stearate, capsule (gelatin, colours: E 171)

Chela-Min:

Magnesium bisglycinate (magnesium amino acid chelate), calcium bisglycinate (calcium amino acid chelate), magnesium oxide, potassium chloride, calcium carbonate, zinc bisglycinate (zinc amino acid chelate), manganese bisglycinate (manganese amino acid chelate), ferrous bisglycinate (iron amino acid chelate), sodium selenite, chromium (III) chloride, copper bisglycinate (copper amino acid chelate), potassium iodide, bulking agent – microcrystalline cellulose, anti-caking agent – magnesium stearate, capsule (gelatin, colours: E 132, E 171)
Take 1 capsule of VITA – PLEX and 1 capsule of CHELA-MIN once daily after your main meal.