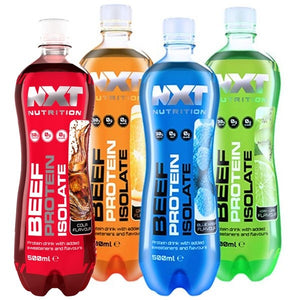 NXT Beef Isolate RTD 12x500ml
Regular price £29.99 Sale
NXT Beef RTD provides high quality protein an essential nutrient that builds muscle mass, fuels recovery, and maintains optimal health. That much is certain.
The problem? Getting enough of it, at the right times.
In a day and age where convenience rules the roost, the quality of our protein sources has been 'questionable', to say the least.
What we need is a solution to plug the gaps. One that isn't typically dairy based and neglects the fact that an increasingly large amount of the population is lactose intolerant, allergic to dairy, or simply don't tolerate the compound well.
This is where NXT Nutrition's Beef Protein Isolate 500ml steps in.
A superb alternative to whey protein, our Beef Protein Isolate boasts an incredible 30 grams of amino-rich protein per drink.
Not only is it rich in leucine, glutamine and other critical amino acids necessary for tissue building and repair, it also has rock-bottom carbohydrate and fat content ensuring you literally only are left with protein in every drink you have.
Coming in a delicious array of flavours, NXT Nutrition's Beef Protein Isolate is the superior alternative to an overcrowded whey market and perfectly designed to allow you to reach your daily protein needs.
Quality, innovation, and fantastic taste: a revolutionary protein product for a revolutionary style of customer.
Ingredients: Water, Beef Protein Isolate, Acidulants (Citric Acid, Malic Acid), Flavouring, Preservatives (Potassium Sorbate, Sodium Benzoate), Sweetener (Sucralose), Colourant (Brilliant Blue {Blue Raspberry Flavour Only}), (Sunset yellow {Orange Flavour Only)}, (Quinolene yellow and Brilliant Blue {Kiwi & Lime Flavour})
Serving Size: 1 Bottle
Servings Per Case: 12
Amount Per Serving
Energy 541kj
128kcalo
Fat 0g
of which saturates 0g
Carbohydrates 0g
of which sugars 0g
Fibre 0g
Protein 30g
Salt TRACE