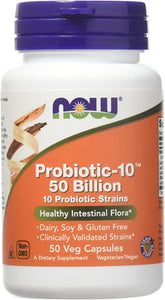 Now Foods Probiotic-10, 100 Billion, 60 Veg Capsules
Regular price £29.99 Sale
Product OverviewDescription10 Probiotic Strains Restorative Care For Temporary Disruptions to Intestinal Balance Dairy, Soy & Gluten Free KosherNon-GMO A Dietary SupplementVegetarian/VeganStrain Verified DigestiveFamily Owned Since 1968GMP Quality Assured
NOW Probiotic-10 offers a balanced spectrum of live organisms consisting of acid-resistant probiotic bacterial strains that are known to naturally colonize the human GI tract. Probiotic bacteria are critical for healthy digestion, help maintain the integrity of the intestinal lining, support proper intestinal motility and participate in the detoxification process. This potent Probiotic-10 formula delivers 100 billion live organisms to help restore healthy flora following occasional but temporary disruptions to intestinal balance.
Suggested Use
Take 1 capsule daily between meals or on an empty stomach. Refrigerate to maintain potency. 
Other Ingredients
Hypromellose (cellulose capsule), microcrystalline cellulose, fos (fructooligosaccharides), ascorbyl palmitate and silicon dioxide.
Not manufactured with wheat, gluten, soy, milk, egg, fish, shellfish or tree nut ingredients. Produced in a GMP facility that processes other ingredients containing these allergens.
Warnings
Consult physician if pregnant/nursing, taking medication (especially immune-suppressing drugs), or have a medical condition (especially if immune system is compromised). Keep out of reach of children.
The probiotic strains in this product have been identity-verified using DNA-fingerprinting technology. 
This product is formulated to deliver a potency of 100 Billion CFU through the Best By date.
DisclaimerWhile strives to ensure the accuracy of its product images and information, some manufacturing changes to packaging and/or ingredients may be pending update on our site. Although items may occasionally ship with alternate packaging, freshness is always guaranteed. We recommend that you read labels, warnings and directions of all products before use and not rely solely on the information provided by .Supplement FactsServing Size:1 Veg CapsuleAmount Per Serving% Daily ValueBlend of 10 Strainsbrof Probiotic Bacteria:brLactobacillus acidophilus (La-14), Bifidobacterium lactis (Bl-04),brLactobacillus plantarum (Lp-115), Lactobacillus casei (Lc-11),brLactobacillus rhamnosus (Lr-32), Lactobacillus paracasei (Lpc-37),brBifidobacterium breve (Bb-03), Streptococcus thermophilus (St-21),brLactobacillus salivarius (Ls-33), Bifidobacterium longum (BI-05) 100 Billion CFU**Daily Value not established.