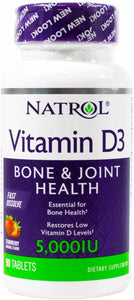 NATROL Vitamin D3 Fast Dissolve 5000IU - 90 tablets
Regular price £19.99 £14.99 Sale
NATROL Vitamin D3 Fast Dissolve 5000IU - 90 tablets

NATROL Vitamin D3 Fast Dissolve 5000IU - Research shows that vitamin D plays a much larger role in promoting health than simply helping build strong bones. Vitamin D helps regulate healthy cell growth, supports immunity, heart health and healthy aging.
Known as Cholecalciferol, D3 is the natural form of vitamin D and usually obtained through diet or produced by the skin from the ultraviolet energy of the sun. Poor diet and lack of sun exposure can result in inadequate intake of vitamin D for optimal health.
Natrol Vitamin D3 Fast Dissolve comes in strawberry flavor that tastes great and can be taken anytime, anywhere. No water needed. It is fast-acting and perfect for those that have a hard time with swallowing vitamins and supplements.
- Essential for bone, heart and immune health
- Great tasting strawberry flavor
- No water needed
In addition to helping build bones, vitamin D3 helps support immune, healthy aging and heart health. Go ahead, own your health with Natrol Vitamin D3 Fast Dissolve.
Dosage

Take 1 tablet a day. No water necessary.
Ingredients Table

Container: 90 tablets
Serving Size: 1 tablet
Servings per Container: 90
Form: tablet


| Ingredients | Content in a portion | in 100 g | % RDA |
| --- | --- | --- | --- |
| Vitamin D3 (cholecacyferol) | 125mcg (5,000IU) | | 1250% |
Other ingredients
xylitol, maltodextrin, cellulose gum, polyvinyl pyrrolidone, modified food starch, silicon dioxide, malic acid, fatty acids, natural strawberry aroma, beet powder, magnesium salts of fatty acids, citric acid.
About the brand

Natrol is an American producer of vitamins, minerals and dietary supplements who's been successfully selling their products all around the world for the last 35 years. You can see the knowledge and the experience of Natrol in the highest quality of their natural products. In the company's offer we can find products supporting vitality and natural aging processes but also the ones that help regulate natural sleep, improve our complexion, support brain functions, control body weight or the ones created especially for women. Natrol dietary supplements have great quality and surprisingly not such a high price!