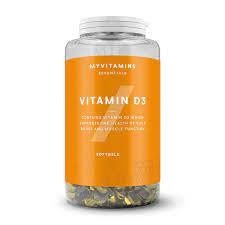 MyProtein - Vitamin D3 - 360 softgels
Regular price £14.99 Sale
Product OverviewWhat Are Myvitamins Vitamin D3 Softgels?
Myvitamins Vitamin D3 Softgels are a premium source of an essential D vitamin to support your general health and wellbeing.It contains a high quantity of vitamin D3 to support our bones and teeth.
(1) It does this by aiding the absorption of calcium, which supports bone health.
(2) Vitamin D3 also helps to maintain our immune system's health to keep us fighting fit.
(3) Why Use Myvitamins Vitamin D3 Softgels?
Known as the 'sunshine vitamin', our skin naturally produces vitamin D after being exposed to sunlight. In the winter, or during periods of little sun, our body stops producing it and our stores drop.
If we don't produce enough vitamin D, our bones and general wellbeing can suffer.Our Vitamin D3 tablets contain a high strength source of one vitamin D compound to help support your natural levels.What Works Well With Vitamin D3 Softgels?
Vitamin D can support the absorption of calcium to support our bones. For extra support for your bones and joints, try taking Turmeric too, which is a popular joint supplement.
References1. Vitamin D contributes to the maintenance of normal bones and teeth
2. Vitamin D contributes to normal absorption/utilisation of calcium3. Vitamin D contributes to the normal function of the immune system
Key BenefitsSupports bones and teeth.1Aids calcium absorption. 2Promotes a healthy immune system. 3We're going through some changes.
So if your label looks different, don't worry – the ingredients are exactly the same.IngredientsOlive Oil, Softgel (Gelatin, Glycerine), Vitamin D.