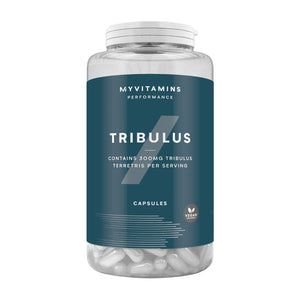 MyProtein - Tribulus
Regular price £24.99 Sale
Product Overview
Our Tribulus terrestris capsules are sourced from a natural plant extract and are an ideal support for an active lifestyle, whether you're crunching sets in the gym or pushing yourself on the running track.
What is Tribulus?
Tribulus terrestris is a natural herb extract from a plant in the caltrop family. It can be found all around the world, but predominantly in North America as it has adapted to grow in dry climate locations.Key BenefitsCan help increase growth compound levelsMay help with libidoStrongest extract available
Why Choose?
What are the benefits of Tribulus terrestris?
Tribulus terrestris has long been used in traditional medicine, most commonly traditional Indian medicine.It's also used as a dietary supplement – our convenient Tribulus capsules provide 300mg of tribulus and can easily be taken on the move to fit into any routine.
Each capsule also provides a 95% saponin content — making it perfect to increase your daily intake and support your fitness ambitions.IngredientsTribulus Terrestris Powder (95% Saponins), Capsule (Hydroxypropyl Methylcellulose), Bulking Agent (Dicalcium Phosphate), Anti Caking Agents (Silicon Dioxide, Magnesium Stearate).Allergens:Produced in a facility which also handles nuts, milk, shellfish, fish and soya.