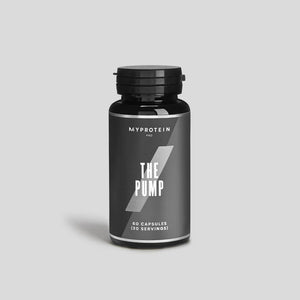 MyProtein - The Pump - 60 capsules
Regular price £14.99 Sale
Product Overview
Designed to help you train harder and beat those PB's, The Pump is the perfect way to boost your performance — without the added stimulants.With a blend of specifically selected ingredients, it's the perfect solution for anyone who enjoys a late-night workout, minus the caffeine buzz that leaves you feeling wide-awake.Key BenefitsNo added caffeine* pre-workoutPerfect for evening workouts
With 300mg VASO6™500mg betaine anhydrous
Why Choose?
With a premium ingredient profile, THE Pump is great for giving you the boost you need, but without the added caffeine that can give you jitters sometimes. It's packed with highly researched ingredients to get you closer to breaking barriers.
THE Pump: Ingredient BreakdownVASO6™: a patented ingredient, derived from green tea extract and containing naturally high levels of specific catechins and over 90% polyphenol content.Vitamin C: ideal for helping to support your natural defences.1 Plus, it helps to keep fatigue at bay2 and keep you on top of your game.3Iron: an important mineral that supports circulation, the formation of red blood cells and oxygen transportation throughout your body4 — essential for high-intensity exercise. And, it supports your cognitive function, so you're ready for any workout.
5Thiamine: A popular ingredient in pre-workouts, and helps support your cardiovascular system.6 We've finished off our formula with 125mg of beetroot extract which contains 2% nitrates.*Contains naturally occurring caffeine.1. Vitamin C contributes to maintain normal function of the immune system.2. Vitamin C contributes to the reduction of tiredness and fatigue.3. Vitamin C contributes to normal psychological function.4. Iron contributes to normal formation of red blood cells and haemoglobin and contributes to normal oxygen transport in the body.5.
Iron contributes to normal cognitive function.6. Thiamine contributes to the normal function of the heart.Suggested UseWhen to take THE Pump?We recommend taking 2 capsules per serving, either 30 minutes before working out or throughout the day for a quick boost without jitters associated with added caffeine.Do not exceed the stated recommended daily dose. This product should not be used as a substitute for a varied, balanced diet. Keep in a cool dry place out of direct sunlight. Store out of the reach of young children.?
Suitable for vegetarians and vegans.What does THE Pump work well with?To make sure you're getting the extra protein you need to grow and maintain important muscle7 — crucial whatever your fitness goals — follow up your workout with a scoop of the THE Whey.7. Protein contributes to the growth and maintenance of muscle mass.IngredientsBetaine Anhydrous, VASO6™ (Green Tea Complex (Camellia sinensis)), Beetroot Extract (2% Nitrates), Ascorbic Acid, Iron Bisglycinate, Thiamine HCL, Capsule shell (hydroxypropyl methylcellulose), Rice Flour, Anti-Caking Agents (Magnesium Stearate, Silicon Dioxide).Allergens: Produced in a facility which also handles milk.