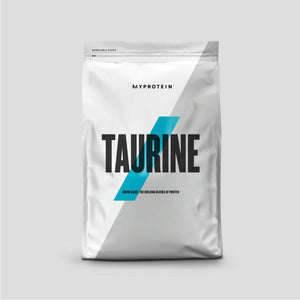 Myprotein Taurine 500g
Regular price £14.99 Sale
Myprotein Taurine 500g
Nutritional information may vary depending on flavour.Taurine is a naturally occurring amino acid, that's found in high concentrations in white blood cells, skeletal muscles, central nervous system, and heart muscles.
Our 100% Taurine Amino Acid is a super-convenient way of increasing your taurine levels.
Key Benefits
100% Taurine
Convenient way to increase Taurine intake
Naturally occurring amino acidWhy choose 100%
Taurine Amino Acid?
Amino acids occur naturally in protein which helps to build and repair new muscle1 — that's super-important whatever your fitness goals.
So whether you lift weights or are a cardio king, it's never been easier to boost your taurine intake.Suggested UseAdd your preferred amount of water or fruit juice into our shaker. Then add 4 mini-scoops (1g), shake and consume.
Use 1-2 times daily.IngredientsMade in a facility that also handles Milk, Soy, Egg, Gluten and products thereof.Unflavoured: Taurine (100%)Serving Size - 1/6 tsp (1g)Product DetailsTaurine Powder.
Unflavoured.
Food supplement.