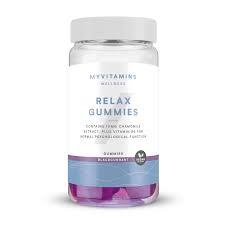 MyProtein Relax Gummies x 60
Regular price £12.99 Sale
Product Overview
Sometimes our busy lifestyles can leave us feeling tired and sleep deprived. That's why it's important to get the sleep you need with the rest and recovery you need to restore your body.
Rest easy with our Relax Gummies, featuring a unique blend of vitamins, minerals, and natural extracts such as lemon balm, a popular ingredient in many relaxing herbal teas. Oh, and they taste great too!Key Benefits1.4mg of vitamin B6 – supports normal psychological function. 112mg of vitamin E – helps to protect cells from oxidative stress.
2A source of popular extracts including lemon balm and chamomile.Vegan-friendly.Why Choose?Often, our busy lifestyles can make it difficult to unwind and destress. Our fruity formulation is the tastiest, and easiest, way to stay topped up on essential vitamins and popular extracts — designed to support your everyday wellness from within.
Our Relax Gummies are a packed unique blend of vitamins and minerals blend, including vitamin B6 to support psychological function1 and vitamin E to help protect cells from oxidative stress. 2 We've also added herbal extracts including chamomile, lemon balm and L-theanine.
These delicious gummies are suitable for vegans, making them the perfect plant-based addition to your daily routine.Suggested UseConsume 2 gummies, once daily.
Store in a cool, dry place away from direct sunlightIngredientsIngredients: Sucrose, Glucose Syrup, Water, Concentrated Blackcurrant Juice, Acidity Regulators (Citric Acid, Sodium Citrate, Malic Acid), Gelling Agent (Pectin), Lemon Balm Extract (Melissa officinalis L.), L-Theanine, Vitamin E, Natural Flavouring, Colour (Anthocyanins), Chamomile Extract (Matricaria chamomilla L.), Vegetable Oils (Coconut, Canola), Vitamin B6, Sweetener (Steviol Glycosides), Glazing Agent (Carnauba Wax).Do not exceed the stated recommended daily dose. This product should not be used as a substitute for a varied, balanced diet. Keep out of the reach of young children.best before: 11/23