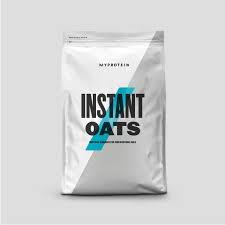 MyProtein - Instant Oats - 1000g/2500g/5000g - 1000g/2500g/5000g See BBE dates in the description
MyProtein - Instant Oats
Mixed best before dates please see below
1000g - Vanilla 09/2023 - Unflavoured 03/2023 - Chocolate smooth 10/2023 
2500g - Vanilla 10 or 11/2023 - Unflavoured mixed 04/0r 03/2023 - Chocolate smooth 10/2023
5000g - unflavoured 03/2023
Our 100% Instant Oats Powder are the perfect addition to breakfast time — ideal for making a quick and easy shake to fuel you throughout the day.These instant oats are packed with carbohydrates, to power your training and support recovery,
1 and are a source of fibre and delivers 11g of protein — ideal for supporting your muscles.
2?How is 100% Instant Oats Powder made?Our 100% Instant Oats are made by simply milling oats into an ultra-fine powder, to create the perfect consistency for your breakfast shake.
Key Benefits
Source of low GI carbohydratesCan help to reduce blood cholesterolGreat taste and easy to mix
Suggested UseThe carbohydrates in Instant Oats will contribute to muscle recovery† after high intensity and/or endurance exercise.
Therefore in order to replenish muscular glycogen stores we recommend adding 2 1/3 large scoops (100g) to 150-250ml of water or your favourite beverage in a Myprotein shaker within 4 hours of exercise.
†Beneficial effect is obtained through consumption of carbohydrates, from all sources, at a total intake of 4 g per kg body weight, at doses within the first 4 hours and no later than 6 hours of exercise.IngredientsFor allergens, including cereals containing gluten, see ingredients in bold. May also contain soy, milk and egg.
Banana Flavour: Oat Flour (96%), Flavouring, Colour (Curcumin), Sweetener (Sucralose)Chocolate Smooth Flavour: Oat Flour (91%), Cocoa Powder, Flavouring, Sweetener (Sucralose)Strawberry Cream Flavour: Oat Flour (96%), Flavouring, Colour (Beetroot Red), Sweetener (Sucralose)Unflavoured: Oat Flour (100%)Vanilla Flavour: Oat Flour (96%), Flavouring, Sweetener (Sucralose)