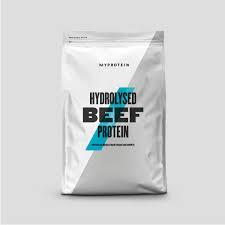 MyProtein Hydrolysed Beef Protein 2.5kg Best before 09/2023
Regular price £29.99 Sale
Best before: 09/23
Product Overview
Nutritional information may vary depending on flavour.What is Hydrolysed Beef Protein?For those looking for a protein that's not milk-based, our Hydrolysed Beef Protein is the ideal solution.
Whey and casein proteins are derived from milk, which of course contains lactose. Beef protein is perfect for people who are looking to avoid milk.Plus, our Hydrolysed Beef Protein is packed with all the essential amino acids and 22g of protein per serving — perfect for anyone looking for an alternative to traditional whey shakes.Key Benefits100% hydrolysed beef proteinOver 22g of protein per servingLactose and dairy free
Why Choose?
What are the benefits of Hydrolysed Beef Protein?
Created from 100% hydrolysed beef protein, sourced from bovine, it's a convenient way to get more high-quality protein into your everyday diet — helping to grow and maintain important muscle.1It's a great boost of amino acids, too.
These naturally occur in protein, which helps to build and repair new muscle1 — a must-have for your training schedule.Plus, with only 0.3g of fat, and 0.4g sugar per serving, it will support all fitness goals — whatever you're looking to achieve.
Who should take Hydrolysed Beef Protein?Our Hydrolysed Beef Protein is a great alternative to whey protein shakes and ideal for anyone looking to increase their intake of protein, without wanting the hassle of protein-heavy meals.What does Hydrolysed Beef Protein taste like?Our protein powders offer great nutritionals, but also taste great too.
That's why we've developed our Beef Protein Isolate in a range of delicious flavours for you to choose from.With a choice of classic flavours, which includes Chocolate, Banana, Strawberry, and Vanilla, you can enjoy a delicious shake that helps you hit your daily protein requirements. We also have Unflavoured, if you'd rather add it to your own smoothies. Plus, if you buy Unflavoured you'll be able to try this with our zero-calorie FlavDrops™ — with a range of indulgent flavours including Chocolate Peanut Butter and White Chocolate to name a few.Nutritionals based on Chocolate version.1. Protein contributes to the growth and maintenance of muscle mass
Suggested Use
Protein contributes to the growth & maintenance of muscle mass so to reap the benefits of this product we recommend adding one scoop (25g) to 150-250ml of water or milk in a Myprotein shaker 30 minutes before and/or after your workout.
Alternatively consume any time of day to increase your daily protein intake.
Ingredients
May also contain gluten, soy, milk and egg.
Banana Flavour: Hydrolyzed Beef Protein (92%), Thickener (Xanthan Gum), Flavouring, Colour (Curcumin), Sweetener (Sucralose).Chocolate Flavour: Hydrolyzed Beef Protein (88%), Thickener (Xanthan Gum), Cocoa Powder, Flavouring, Sweetener (Sucralose).Strawberry Flavour: Hydrolyzed Beef Protein (92%), Thickener (Xanthan Gum), Flavouring, Colour (Beetroot Red), Sweetener (Sucralose).Unflavoured: Hydrolyzed Beef Protein (99%), Thickener (Xanthan Gum)Vanilla Flavour: Hydrolyzed Beef Protein (92%), Thickener (Xanthan Gum), Flavouring, Sweetener (Sucralose)