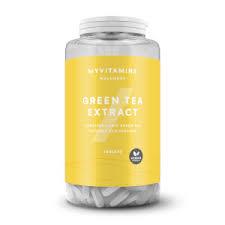 MyProtein - Green Tea Extract
Regular price £11.99 Sale
Product Overview
Green tea itself is one of the healthiest drinks that you can take, and offers plenty of health benefits thanks to its high concentrations of a number of substances. Rich in a number of vitamins and minerals and an excellent all round addition to any diet, the main active compounds in green tea that make it particularly special are the polyphenols.Polyphenols are found in many plants including grapes and other fruits, and they are one of the most powerful antioxidants available. The richest supply of polyphenols in nature is in the tea bush Camellia Sinensis.
Due to the fermenting process that goes into making it, polyphenols are not found in large amounts in black tea.Antioxidants are known to play a number of important roles in the body, but the most important is the part that they play in minimising the damage caused to cells by the aging process and the presence of free radicals in our diet.
The main active ingredient in Green Tea is the chemical epigallocatechin gallate (EGCG), one of the most powerful polyphenol antioxidants, which has an effect around 100 times as great as that of Vitamin C. EGCG plays a key role in protecting delicate tissues in the body, and has been shown in medical tests to reduce the risk of certain cancers developing.Green Tea extract tablets offer all the same benefits of regular green tea consumption, but do so in a more convenient way. They are made from real tea leaves, and are specially produced in such a way as to avoid any loss of the benefits that are gained from taking the supplement.Key BenefitsRatio of 20:130mg of polyphenolsComes in a convenient tablet form
Suggested Use
Consume 1 tablet, 1-3 times daily. Best taken with food.Warning: Contains caffeine. Not recommended for children or pregnant or breast-feeding women. Contains 4 mg of caffeine per serving.
Do not exceed the stated recommended daily dose. This product should not be used as a substitute for a varied, balanced diet. Keep in a cool dry place out of direct sunlight. Suitable for vegetarians. Store out of the reach of young children.