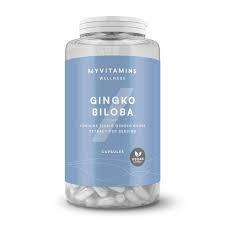 MyProtein - Ginkgo Biloba -90 capsules
Product Overview
Our Gingko Biloba capsules are rooted in thousands of years of Chinese medicine, and created using the latest research — perfect for supporting your healthy lifestyle. Key BenefitsMade with whole ginkgo biloba leaves
Concentrated sourceVegan, vegetarian, and gluten-freeWhy Choose?
Made with whole ginkgo biloba leaves, our capsules are packed with 120mg of ginkgo biloba extract per serving — the optimum concentration recommended by nutritional experts.
1.Ginseng contributes to the natural defences and proper functioning of the immune system.
Suggested Use
When to take Gingko Biloba Capsules?It couldn't be easier — simply take 1 capsule a day with food. What do Gingko Biloba Capsules work well with?Our Gingko Biloba capsules are a concentrated source of a natural plant extracts. Try adding Ginseng to boost your health and wellbeing.1Do not exceed the stated recommended daily dose. This product should not be used as a substitute for a varied, balanced diet. Keep in a cool dry place out of direct sunlight.
Store out of the reach of young children.
Suitable for vegetarians and vegans.IngredientsBulking Agent (Microcrystalline Cellulose), Ginkgo Biloba Extract 50:1 (leaves), Thickener (Hydroxypropyl Methyl Cellulose), Anti-caking Agents (Magnesium Stearate, Silicon Dioxide)