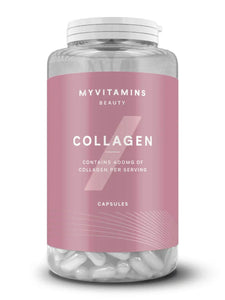 MyProtein - Collagen 90 capsules
Regular price £14.95 Sale
Product Overview
Our Collagen capsules are packed with naturally occurring porcine type 1 collagen, that's designed specifically to boost and support our natural levels.
Key BenefitsType I collagenWith hydrolysed collagenSuper-convenient to take
Why Choose?
Collagen is the most abundant protein in the body and a key part of all connective tissues — our super-convenient capsules are the simple way to boost your daily levels.
Ingredients
Ingredients: Collagen (Porcine), Capsule (Gelatine), Anti-Caking Agents (Magnesium Stearate, Silicon Dioxide).Produced in a facility which also handles milk.Not suitable for vegetarians.Do not exceed the stated recommended daily dose. This product should not be used as a substitute for a varied, balanced and a healthy lifestyle. Keep out of the reach of young children.