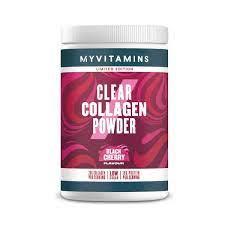 Myprotein clear collagen powder 485g - limited edition
Regular price £19.99 Sale
Product Overview
Dated best before end of 11/2023
Try our refreshingly fruity flavoured Collagen Powder to support your training progress.
It's zero fat, low in sugar, and provides 18g of protein per serving — ideal for supporting the growth and maintenance of muscle mass.1Thanks to our new limited edition Black Cherry flavour, you can enjoy a smooth, sweet refreshing taste as you enjoy a refreshing post-workout protein and collagen top up.
Key Benefits20g of collagenBlend of type I and III collagen18g of proteinLimited-edition flavour
Why Choose?
Collagen is the most abundant protein in the body and is mainly found in skin, hair, nails, and other connective tissues. As we age, our natural collagen levels start to decline, which is where this super-convenient supplement comes in.
Providing 20g of collagen and 18g of protein per serving, it's a great way to make sure you're getting enough of this important nutrient into your diet, while supporting muscle growth and maintenance.
1Our Black Cherry Collagen Powder is a limited-edition blend of type I and III collagen, in a convenient powder form that's perfect for adding to drinks, shakes or bakes. Plus it's zero fat and low in sugar, making it a perfect fit for any training goal.
1. Protein contributes to the growth and maintenance of muscle mass.