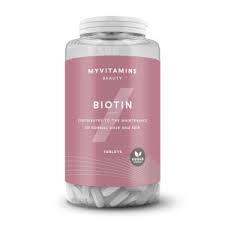 MyProtein Biotin 90 tablets
MyProtein - Biotin
Biotin is a water-soluble B-complex vitamin, also known as vitamin B7, that has several important functions in the body — including supporting metabolism1 and maintaining your hair and skin.2
Key Benefits
Supports your metabolism1
Maintains hair and skin2
Contributes to normal psychological function3
From supporting your metabolism1 and mind,3 to maintaining normal hair and skin3— our super-convenient tablets deliver over 100% of your RDA of this essential vitamin — meaning hitting your daily levels has never been easier.
1. Biotin contributes to normal energy-yielding metabolism.
2. Biotin contributes to the maintenance of normal hair and skin.
3. Biotin contributes to normal psychological function.
When to take Biotin?
We recommend taking 1 tablet per day for best results.
What does Biotin work well with?
To make sure you're also getting other essential vitamins and minerals, combine Biotin with our super-popular Daily Multivitamin — a carefully formulated complex of seven essential vitamins.
Ingredients
Bulking Agents (Microcrystalline Cellulose, Dicalcium Phosphate), Biotin, Anti-Caking Agents (Silica, Magnesium Stearate).
Allergens – Produced in a facility which also handles milk.