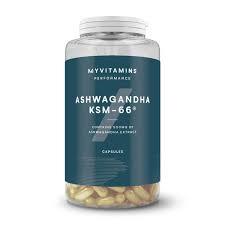 MyProtein - Ashwagandha KSM - 66
Regular price £14.99 Sale
Product Overview
Ashwagandha, also known as Indian Ginseng or Winter Cherry, is a traditional herb that's native to India and commonly used in ayurvedic medicine.The ashwagandha plant is a small shrub and member of the Nightshade family, that's been used for thousands of years, but has seen a huge rise in popularity in recent years — with increasingly more research published every year into the benefits of the traditional herb.
Key Benefits 500mg of Ashwagandha root extract per capsuleCommonly used in ayurvedic medicine
Super-convenient capsules
Why Choose?
KSM-66 Ashwagandha is a branded, full-spectrum root extract, with one of the highest concentrations available, delivering 500mg of Ashwagandha root extract per capsule — delivering the benefits of this traditional herb in super-convenient way.
Ingredients
Ashwagandha Root Extract (Withania somnifera) (Milk), Anti-caking agents (Microcrystalline Cellulose, Magnesium Stearate, Silicon Dioxide), Capsule (Hydroxypropylmethylcelloluse)For allergens, see ingredients in bold