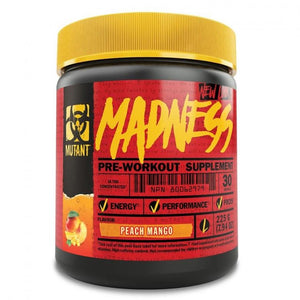 Mutant Madness - pre-workout
Regular price £14.99 Sale
Description
Nutritional Information
Directions
Mutant Madness seizes the pre-workout experience, and vaults it to a whole new extreme level! Engineered exclusively for high intensity workouts only, this extra premium formula will jolt your senses. New & Improved Mutant Madness tastes even better and performs better!
Serving Size: 7.5 g
Servings Per Container: 30
Energy: 5 kcal / 21 kJ

Carbohydrate: 1 g

Niacin (10NE Niacinamide, 10NE Niacin): 20 NE

Vitamin B6 (Pyridoxine HCL): 4.2 mg

Folic Acid: 200 mcg

Vitamin B12 (Methylcobalamin): 3 mcg

Mutant Madness Formula: 5215 mg

Performance Intensity Matrix: 4650 mg

L-Citrulline Malate/L-Arginine HCL 2;1 Blend: 1500 mg
Beta-Alanine Instantized Carnosyn Brand: 1250 mg
Taurine/L-Tyrosine 2;1 Blend: 1000 mg
Malic-Citric Acid Blend: 900 mg

5-Caffeine + Polyphenol/EGCG Matrix: 500 mg

Coffea Arabica Extract: 333 mg
Green Tea Leaf Extract: 92 mg
White Tea Leaf Extract: 25 mg
Black Tea Leaf Extract: 25 mg
Green Coffee Bean Extract: 25 mg
Total Caffeine: 330 mg

Amplification Matrix: 65 mg

L-Theanine: 30 mg
Olive Leaf Extract (20% Oleuropein): 20 mg
Cinnamon: 10 mg
BioPerine Black Pepper Extract (Piper Nigrum)(Fruit)(98% Piperine): 5 mg
Other Ingredients (based on Fruit Punch Flavour)
Anti-Caking Agents (Waxy Maize Starch, Rice Starch, Silicon Dioxide, Tricalcium Phosphate, Magnesium Oxide), Natural & Artificial Flavours, Colours (Calcium Carbonate, Red Beet Powder), Potassium Citrate, MCT Oil (Fractionated Coconut Oil), Salt, Sweeteners (Sucralose, Steviol Glycosides (from Stevia Leaf Extract))
As a food supplement for healthy adults performing high intensity exercise who are experienced pre-workout supplement users, add ½-1 level scoop to 250ml (8 fl.oz.) of cold water, shake for 5-10 seconds, and slam it back 10-30 minutes prior to workouts.
First time users should try only ¼-½ a scoop in 250 ml of water first to assess tolerance. Do not consume within four hours prior to bedtime.