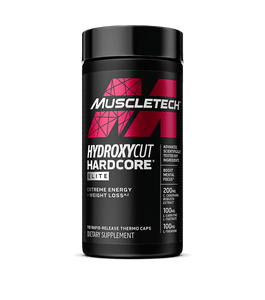 MuscleTech HydroxyCut Hardcore Elite
Regular price £29.99 £24.95 Sale
Description
Nutritional Information
Directions
MuscleTech HydroxyCut Hardcore Elite has built on the reputation of the original Hydrocut formulas to provide you with an unrivaled thermogenic experience.
With Caffeine, L-Theanine and Capsicum, this powerful formula delivers a one-of-a-kind sensory experience and jacks up energy levels! Plus HydroxyCut Hardcore Elite will help you lose weight with its key ingredient (Green Coffee Extract).
Very few thermogenic formulas have solid scientific studies backing their weight loss ingredient, let alone two weight loss trials. Now it's time to experience what a real weight loss formula can do for you.
Serving Size: 2 Capsules
Servings Per Container: 55
Caffeine Anhydrous: 250 mg

Green Coffee Extract (As C. Canephora Robusta) (Seed): 200 mg

L-Carnitine L-Tartrate: 100 mg

L-Theanine: 100 mg

Cocoa Extract (As Theobroma Cacao) (Seed): 100 mg

Bioperine Black Pepper Extract (as Piper nigrum) (Fruit): 5 mg

Cayenne pepper (as Capsicum annuum) (Fruit): 5 mg
Other Ingredients
Veggie Capsule (Hypromellose, Titanium Dioxide), Cellulose, Silicon Dioxide, Magnesium Stearate.
To assess your tolerance, for the first day, take 1 capsule once daily. On days 2 and 3, take 2 capsules once daily. On day 4 and beyond, take 2 capsules twice daily, 30 to 60 minutes before your two main meals.
For best results, use for 60 days in combination with calorie-reduced diet and exercise.
Do not exceed 4 capsules in a 24-hour period.