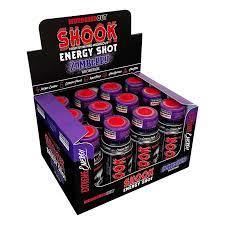 Murdered Out Shook Energy Shots x12 Zomberry flavour
Regular price £24.99 £14.99 Sale
SHOOK Energy Shots are a super-fast acting high stim pre workout energy shot to help give you that killer focus during your workout.
SHOOK Energy Shots deliver 9 clinically proven skin tearing ingredients to enhance your energy, pump and focus.
Every bottle of SHOOK Energy Shot contains 1250mg focus matrix, 4000mg pump matrix, 250 mg caffeine and 3000mg beta alanine with added extra vitamins b12 and b6! It's also vegan friendly!
Container Size: 12x60ml
Serving Size: Half Shot (30ml)
Amount Per Serving: Protein: 0g Carbohydrates: 0g Fat: 0g Salt: 0.1g Ingredients: Water, Beta Alanine, Citrulline DL Malate 2:1, L Arginine, Acidity Regulators (Phosphoric Acid, Malic Acid, Citric Acid), Taurine (Anti Caking Agent: Silicon Dioxide), Acetyl L Tyrosine, Caffeine Anhydrous, Flavourings, Preservative (Potassium Sorbate), Sweeteners, (Acesulfame K, Sucralose), Vitamin B6 (Pyridoxine HCL), Bioperine ?
(Black Pepper Extract), Colour (Brilliant Blue) (E133), Vitamin B12 (Cyanocobalamin) Please Note: Nutritional facts and ingredients may vary slightly between flavours.