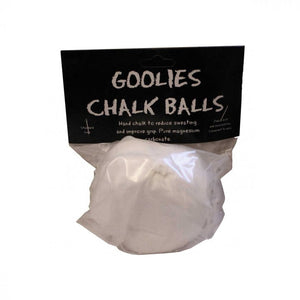 Mega Grip Chalk Balls
Description
Facts
Directions
Chalk Balls:
The chalk is squeezed onto your fingers and it reduces sweating. Chalk balls are a lot less messy than loose chalk and block chalk, and chalk balls last a lot longer. than block or powder chalk. Goolies enable you to have your own personal supply of chalk in a convenient carry ball.
Mesh covered to reduce dust & wastage.

The stretched mesh lets out plenty of chalk each time to coat the fingers well but without losing too much powder and should last a good long time.

Liquid chalk is designed to leave less mess than traditional chalk and comes in a handy size and easy to carry bottle.

Perfect for indoor climbing and gyms.

Ideal for Rock climbing, gymnastics, weightlifting and pole dancing.
Apply it thinly, just spread it on your hands, do not "over rub" it in. You do not need much.
Let it dry, it leaves a thin white coating on the fingers. This is harmless to people, it does not affect, damage, or leave large deposit on Yoga Mats, rock or climbing wall holds, so Mega-Grip is extremely eco-friendly.
In the extremely unlikely event of a sensitive reaction on to Mega-Grip, wash it off and stop use immediately. Do not use on broken skin. It may be a good idea to test a small area if the user has sensitive skin.