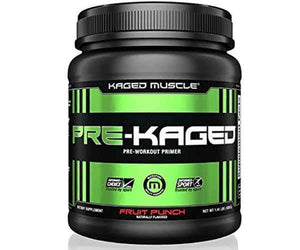 Kaged Muscle Pre-Kaged Pre-workout
Regular price £49.95 Sale
Description
Nutritional Information
Directions
Kaged Muscle Pre Kaged is the brainchild of fitness superstar Kris Kethin. 
Combining clinical doses of performance enhancing products such as l-citrulline, bcaa's, betaine, caffeine and more its easy to see why Kaged Muscle Pre-Kaged is one of the most sought after pre workouts on the market today. 
Serving Size: 1 Scoop (31.9 g)
Servings Per Container: 20
Energy: 15 g

Sodium: 85 mg

Carbohydrate: 3 g

Niacin (as Niacinamide): 30 mg

Vitamin B6 (as Pyridoxine Hydrochloride): 25 mg

Vitamin B12 (as Mehtylcobalamin): 500 mcg

Pro-Pump:

L-Citrulline (fermented): 6.5 g
QU995 (Quercetin Anhydrous): 200 mg

Muscle Fuel Matrix: 3.5 g

L-Leucine (fermented): 1750 mg
L-Isoleucine (fermented): 875 mg
L-Valine (fermneted): 875 mg

Anabolic-Activator:

L-Leucine (fermented): 3 g

Endura Burn Matrix:

CarnoSyn (Beta-Alanine): 1.6 g
BetaPower (Natural Betaine): 2 g
Patented Creatine HCI: 1.5 g

Hydrate & Defend:

Coconut Water Powder: 500 mg
Spectra Total ORAC Blend: 100 mg
Green Tea Extract,
Brocolli Sprout Concentrate
Onion Extract
Apple Extract
Acerola Extract
Camu Camu Concentrate
Quercetin
Tomato Concentrate
Broccolli Concentrate
Acai Concentrate
Basil Concentrate
Cinnamon Concentrate
Garlic Concentrate
Oregano Concentrate
Turmeric Extract
Carrot Concentrate
Elderberry Concentrate
Mangosteen Concentrate
Blackberry Concentrate
Blackcurrant Extract
Blueberry Extract
Chokeberry Concentrate
Raspberry Concentrate
Sweet Cherry Concentrate
Spinach Concentrate
Kale Concentrate
Brussel Sprout Concentrate

Neuro-Focus Matrix:

Taurine: 2 g
N-Acetyl L-Tyrosine: 1 g
PurCaf Caffeine: 274 mg
Other Ingredients
Natural flavors, malic acid, beet root extract (color), sunflower lecithin, citric acid, sea salt, stevia, sucralose, silicon dioxide, calcium silicate
As a dietary supplement, mix one scoop with 16-20 ounces of cold water on a shaker bottle 30-45 minutes before workout. Continue to shake bottle lightly between sips and drink entirely within 25 minutes of mixing.