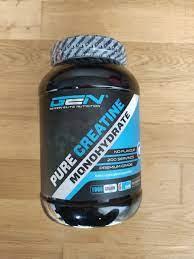 German Elite Nutrition - Pure Creatine Monohydrate
Regular price £29.99 Sale
IRST-CLASS PRICE PERFORMANCE RATIO: Each can contains 1000 g of pure Creatine Monohydrate powder.
XXL stock pack with 293 servings of 3.4 g creatine monohydrate each.
Our creatine has a mesh factor of 200 and is therefore particularly fine & can be absorbed very well by the body.
SOLUBILITY & DOSAGE: For an ideal creatine cure we recommend 3.4 g creatine monohydrate daily. A daily portion of 3.4 g creatine monohydrate contains 3 g pure creatine. Our pure creatine has perfect solubility.
The included scoop allows for easy & accurate dosing.
BASIC SUPPLEMENT: Creatine can be perfectly combined with other amino acids such as L-Citrulline, L-Glutamine, Taurine, L-Tyrosine, L-Arginine & AAKG.100% VEGAN, LABORATORY TESTED & WITHOUT ADDITIVES: 100% vegan powder.
Independently laboratory tested for impurities & contaminants such as heavy metals, molds & other relevant testing criteria. Our Creatine Powder is free of magnesium stearate, free of gelatin, free of flavors, free of colorants, free of stabilizers, lactose-free, gluten-free, free of preservatives, free of genetically modified ingredients (GMO-free).
QUALITY & YOUR SATISFACTION: The GEN range includes numerous nutritional supplements at a fair price-performance ratio. All products are made from high quality premium raw materials and exclusively in certified factories within the EU.
If you are not satisfied with our product, or if you need help and advice, please feel free to contact us.