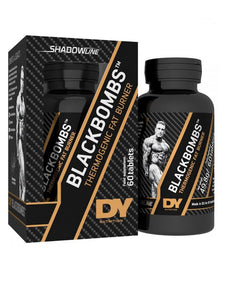 DY NUTRITION BLACK BOMBS FAT BURNER 60 CAPS
Regular price £29.99 £19.99 Sale
Dorian Yates - Black Bombs 60 Caps
A 3-pronged approach to fat loss, Blackbombs is Dorian's serious assault on fat cells that includes the most potent fat-incinerating ingredients ever researched by science.
Blunts appetite and suppresses cravings, allowing you to adhere to your diet without feeling the need to cheat.
Contains multiple thermogenic compounds that mobilize fatty acids into the bloodstream, forcing your body to relentlessly burn them for energy.
Serving Size: 1 tablet
Nutritional Information Based On 1 tablet
Berberine HCl 600 MG
Capsicum 8:1 200 MG
Dynamine 100 MG
Teacrine 100 MG
Theobromine 100 MG
Choline (as bitartrate) 100 MG
DL-Phenylalanine 100 MG
Caffeine 100 MG