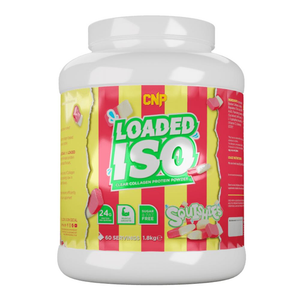 CNP Loaded ISO 1.8KG
Regular price £59.99 £49.99 Sale
CNP Loaded ISO 1.8KG
LOADED ISO is about to shake up the protein shake market! These sweet inspired, fruit twist infused, crystal clear collagen based shakes are the most refreshing way to drink your protein. Inspired by our bestselling range of LOADED EAA?s, the LOADED ISO range is a new taste experience. No thick milk based protein shakes here, just refreshing uplifting sweet based flavours.
Manufactured in a facility using Lactose-Free sources of Collagen Hydrolysate and boasting 0.0g of both fat and sugar in selected flavours, it is both high in protein and surprisingly low in calories. If you are looking to build muscle and increase recovery efficiently then LOADED ISO is a must have addition to your supplement stack.
Container Size: 1.8kg Serving Size: 30g Amount Per Serving: Protein: 23g Carbohydrates: 0.9g Fat: 0g Salt: 0.2g Ingredients: Hydrolysed Bovine Collagen, Acidity Regulator (Malic Acid, Citric Acid), Flavouring, Sweetener (Sucralose), Anti Foam, Salt, Colouring (Red Beetroot Extract, E129)*, L-Tryptophan, Ascorbic Acid (Vitamin C). Please Note: Nutritional facts and ingredients may vary slightly between flavours.