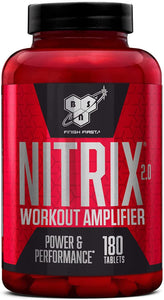 BSN Nitrix 2.0
Regular price £39.99 £31.99 Sale
BSN Nitrix 2.0
BSN's Nitrix is what's called AM to PM vaso-muscular dilator support. This product is designed to work by supporting blood vessel dilation, which may act to increase blood flow, oxygen and nutrient delivery to your muscle cells. By ensuring the efficient travel of blood and nutrients throughout the body, you could experience improved workout performance, amazing pumps, more muscle fullness and vascularity.
Nitrix could be the foundation to all of your supplementation needs. Live for the pump! Containing a vast array of active ingredients, such as L-arginine alpha-ketoglutarate (AKG), L-arginine ethyl ester, L-citrulline, sodium creatine phosphate, creatine ethyl ester-beta-alanine dual action composite, creatinol-O-phosphate-malic acid interfusion, creatine alpha-amino-N-butyrate, phosphaplexx, nicotinamide adeninie dinucleotide, this may be the most comprehensive formula on the market today.
Container Size: 180 Tablets Serving Size: 3 Tablets Servings Per Container: 60 Amount Per Serving: Typical Values Per Serving (% RI*) Creatine 1.5 g L-Citrulline 1.5 g Hawthorne Extract 100 mg Pomegranate Extract 100 mg Grape Seed Extract 50 mg Cayenne Pepper Extract 25 mg Niacin 12 mg (75%) 24 mg Black Pepper Extract 5 mg Resveratrol 3 mg Other Ingredients: Creatine Monohydrate, L-Citrulline, Bulking Agent (Microcrystalline Cellulose), Anti-Caking Agents (Silicon Dioxide, Magnesium Salts of Fatty Acids), Hawthorne Extract (Crataegus monogyna/laevigata, aerial part), Pomegranate Extract (Punica granatum, fruit), Grape Seed Extract (Vitis vinifera, seed), Stabiliser (Cross-Linked Sodium Carboxy Methyl Cellulose), Cayenne Pepper Extract (Capsicum annuum, fruit), Polygonum cuspidatum Root Extract Powder (standardised to 20% Resveratrol), Nicotinamide, Black Pepper Extract (Piper nigrum, fruit).