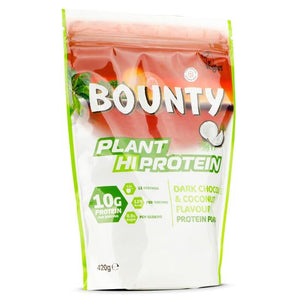 Bounty Plant Hi Protein Powder 420g - Dark Chocolate short dated offer price
For the first time ever, the deliciously dreamy fusion of dark BOUNTY chocolate and coconut is available as a plant-based protein powder!
The delectable taste of paradise has been combined with pea and brown rice protein, for an unmistakably blissful BOUNTY blend!
Each serving provides 10g of protein and 129 kcals, with zero soy in an easy-to-mix plant-based protein powder.
Suitable for vegans.
IngredientsProtein blend (pea protein isolate, brown rice protein), cocoa powder, maltodextrin, chicory root fibre, coconut milk powder, flavourings, emulsifier (soya lecithin), sweeteners (acesulfame k, sucralose), salt. Please Note: Nutritional facts and ingredients may vary slightly between flavours.