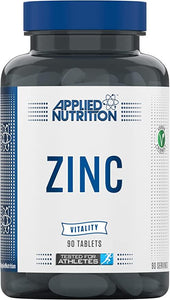 Applied nutrition Zinc - 90 tablets - SAVE £5.00
Regular price £9.99 £4.99 Sale
Applied nutrition Zinc
Zinc90 TABLETS | 90G | 90 SERVINGSZinc is an essential mineral that is involved in numerous aspects of cellular metabolism. It is required for the catalytic activity of many enzymes and it plays a role in immune function, protein synthesis. Zinc also supports normal growth and development. A daily intake of Zinc is required to maintain a steady-state because the body has no specialized Zinc storage system.
KEY BENEFITSEssential MineralEasily Absorbed SourceHalal Certified ProductContributes to the Normal Function of the Immune System During & After Intense Physical ExerciseSUGGESTED USETake 1 tablet daily with food.
CAUTIONCheck with a qualified health professional before using this product if you are under the age of 18, pregnant or nursing a baby, or if you have any known or suspected medical condition(s) and or are taking any prescription or OTC medication(s).
Not to be used as a substitute for a varied diet and healthy lifestyle. Store this product in a cool dry place, away from children. Do not exceed the suggested use. For allergens see ingredients in Bold.
TESTED FOR ATHLETESEvery batch of this product is tested for banned substances under a monitored programme. Products undergo rigorous testing at an ISO 17025 accredited lab to provide the highest level of assurance that they are safer for athletes to use.GMPThis product was manufactured in a GMP facility under strict quality control to assure consistent high quality that meets the requirements of the marketing authorization (MA) or product specification.
SERVING AMOUNTServing Size: 1 TabletServings Per Container: 90 Amount Per ServingVitamin C 60 mg 75% *RIZinc 15 mg 150% *RI* Reference intake of an average adult (8400 kJ/2000 kcal).
OTHER INGREDIENTSCalcium Carbonate, Bulking Agents (Di Calcium Phosphate, Microcrystalline Cellulose), Vitamin C, Zinc Citrate, Anti Caking Agents (Silicon Dioxide, Magnesium Stearate). ALLERGENS: Gluten, Wheat, Dairy, Soya, Yeast, Preservatives, Sweeteners, Artificial Flavours or Colours.