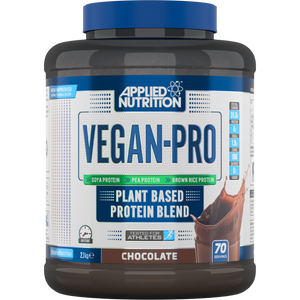 Applied Nutrition Vegan Pro 2kg
Regular price £39.99 £34.99 Sale
Description
Nutritional Information
Directions
Applied Nutrition Vegan-Pro is a good choice for any Vegan's looking to increase their Protein intake.
Stacked with a high Branched Chain Amino Acids profile (BCAAs) Leucine, Isoleucine and Valine, Vegan-Pro can also help contribute to the growth and maintenance of Muscle Mass.
Energy: 459 kJ/ 108.2 kcal

Fat: 0.73 g

of which Saturates: 0.24 g

Carbohydrate: 1.93 g

Fibre: 0.47 g

Protein (Dry Basis): 25.31 g

Sodium: 0 g

Salt Equivalent: 0 g
Alanine: 3442.5 mg

Arginine: 6495.3 mg

Aspartic Acid: 8696.8 mg

Cysteine: 1260.4 mg

Glutamic Acid/Glutamine: 13272 mg

Glycine: 3294.9 mg

Histidine: 1860.6 mg

Isoleucine: 3435.5 mg

Leucine: 6337.3 mg

Lysine: 4636.3 mg

Methionine: 1096.5 mg

Phenylalanine: 4050.1 mg

Proline: 3977.3 mg

Serine: 4179.9 mg

Threonine: 3098 mg

Tryptophan: 984.1 mg

Tyrosine: 3210.5 mg

Valine: 4134.1 mg
Other Ingredients
Soya Protein Isolate (Soy), Pea Protein Isolate, Brown Rice Protein, Hemp Protein, Vanilla Flavour, Xanthan Gum (Thickener), Sucralose (Sweetener), Stevia (Natural Sweetener)
Mix 1 Scoop (30g) with 300ml of Water and shake well for 10 seconds, then allow settle for 30 seconds.