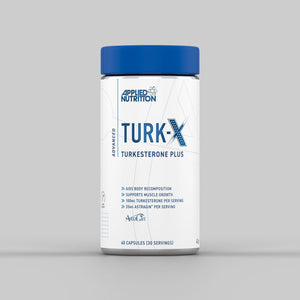 Applied Nutrition TURK-X
Regular price £19.99 Sale
Applied Nutrition TURK-X60 Capsules | 42g | 30 Servings
• AIDS BODY RECOMPOSITION
• SUPPORTS MUSCLE GROWTH
• 100MG TURKESTERONE PER SERVING
• 35MG ASTRAGIN® PER SERVING
TURK-X is a standardised, high strength Ajuga Turkestanica Extract, delivering 100mg of Turkesterone per serving.Developed to support you through your training demands. With AstraGin® to support uptake and absorption.KEY BENEFITS1000mg of Ajuga Turkestanica, delivering 100mg of Turkesterone per serving35mg of AstraGin® per servingPlant based veggie capsule well suited for consumers with dietary, religious or cultural restrictions
Suitable for vegetarians & vegansHalal certified productConsume 2 capsules daily with food.
Do not exceed the stated recommended daily dose.
This product should not be used as a substitute for a varied, balanced diet. Keep out of the reach of young children. Check with a qualified healthcare professional if you are under the age of 18, have known or suspected medical conditions or are taking OTC prescription medication(s). Suitable for vegetarians and vegans. Not recommended for children or pregnant or breast-feeding women.
TESTED FOR ATHLETES
Every ingredient within this product is a carefully selected and monitored through our quality management system to bring you the highest level of assurance. Final products are produced and packaged in an ISO 22000, BRC, GMP & Halal accredited laboratory.FOOD SUPPLEMENT WITH BOTANICAL EXTRACT (60 CAPSULES).