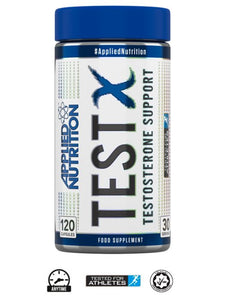 Applied Nutrition Test X - 120 veggie capsules Test booster
Regular price £36.99 £29.99 Sale
Description
Nutritional Information
Directions
Applied Nutrition Test X provides a unique blend of Fenugreek, D-Aspartic Acid, Beta Ecdysterone, Macca Root, Mucuna Pruriens & 5 Methyl-7-Methoxyisoflavone with added Estrogen Busting ingredients to promote balanced Estrogen levels and is recommended for anybody taking part in regular high intensity exercise.
Goes well with...
Applied Nutrition Steel Shaker
Serving Size: 4 Capsules
Servings Per Container: 30
Na-M-DAA: 1800 mg

Avena Sativa: 300 mg

Fenugreek: 270 mg

Estro-Buster: 220 mg

Magnesium: 200 mg

Mucuna Pruriens: 200 mg

Beta Ecdysterone: 180 mg

Macca Root: 150 mg

Vitamin D3: 4000 IU

Zinc: 24 mg

Methoxy Isoflavone: 20 mg

Vitamin B6: 12 mg

Copper: 1200 μg
Other Ingredients
Na-M-DAA, Avena Sativa (Oat Extract), Fenugreek (4-Hodroxy Isoleucine), Estro-Buster (I-3-C (Indole-3-Carbinol), White Button Mushroom, Reveratrol), Magnesium Oxide, Mucuna Pruriens, Beta Ecdysterone, Macca Root, Cholecalciferol, Zinc Mono-L-Methionine Sulphate, 5 Methyl-7-Methoxyisoflavone, Pyridoxine Hydrochloride, Copper Sulfate
Vegetable Capsule Shell (Hydroxypropylmethyl Cellulose), Vegetable Magnesium Stearate, Silicon Dioxide.
Consume 4 capsules daily with food