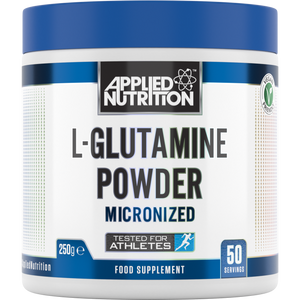 Applied Nutrition L-Glutamine 250g
Regular price £19.99 £14.99 Sale
Applied Nutrition L-Glutamine Powder
L-Glutamine is one essential for making sure you get the results you want at the gym, and with their L-Glutamine Powder Applied Nutrition have given you the tools you need to hit those goals.
Glutamine is a semi-essential amino acid and is naturally produced by the body in very small amounts. However the majority of Glutamine is consumed through the diet, making Applied Nutrition an essential part of your supplement setup. Glutamine supports muscle repair with reduced soreness as well as reducing muscle breakdown to help you stay in the gym longer to ensure top results.
Who is Applied Nutrition L-Glutamine Powder For?
L-Glutamine powder is perfect for anyone looking to improve their recovery and boost their results. Glutamine helps to stop muscle breakdown while supporting repair and reducing soreness, allowing you to get in the gym more frequently.