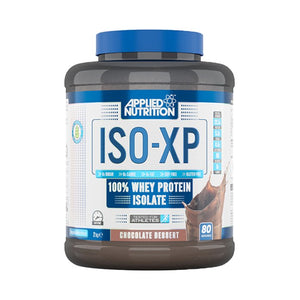 Applied Nutrition ISO XP 1.8kg
Regular price £59.95 Sale
Description
Nutritional Information
Serving Size: 1 Scoop (25 g)
Directions
Applied Nutrition ISO XP is a high protein supplement with sweetener and by far the cleanest and Highest Quality Whey Protein Isolate available to date. ISO XP Instant is made from exceedingly fresh sweet dairy whey that is isolated and then spray dried. ISO XP has no soy added and instead uses Sunflower lecithin as the emulsifier. ISO XP is ideal for anyone looking to increase daily protein intake without any additional fats, carbohydrate or sugars. ISO XP should be mixed with water or skimmed milk for easy mixing and great taste.
Goes well with...
Applied Nutrition Steel Shaker
Servings Per Container: 80
Energy: 377 kJ / 89 kcal

Fats: 0.2 g 

of which Saturates: 0.01 g

Carbohydrate: 0.092 g

Fiber: 0 g

Protein (Dry Basis): 22.5 g

Salt: 0 g
Other Ingredients
Whey Protein Isolate (Milk), Cocoa Powder, Flavour, Sweetener (Sucralose)
Mix 1 Scoop (25 g) with 250 ml of water or skimmed milk. Use 1-3 servings daily, depending on your protein requirements.