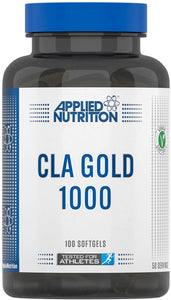 Applied Nutrition CLA Gold 1000mg - 100 Soft Gels
Regular price £14.99 £8.95 Sale
Contains CLA-Rich Safflower Oil
CLA, or Conjugated Linoleic Acids are a family of at least 28 isomers of Linoleum Acid that is a naturally occurring nutrient found mainly in a wide variety of foods such as beef, turkey and even some dairy products. However, although it is found in naturally occurring sources, these are all in relatively small amounts, Applied Nutrition CLA Gold 1000 provides your diet with the additional supply of CLA it crucially needs during the Weight Loss Process. CLA Gold 1000 is rapidly becoming an essential supplement for many fitness enthusiasts, Encouraging the human body to use existing FAT for Energy, helping to Reduce Fat storage.
CLA Gold 1000 is a Healthy Fat and the richest source available derives from Safflower Oil.
Key Benefits
HALAL Certified
Plant Based Veggie Soft Gels well suited for consumers with dietary, religious or cultural restrictions
Tested Foe Athletes
Breaks Down Saturated Fat
Lowers Cholesterol
Natural Source of Omega 6 Essential Fatty Acid
Popular amongst those on a weight management plan
| | |
| --- | --- |
| CLA-Rich Safflower Oil | 2000mg |
| of which CLA | 1600mg |
2 Gels per serving - 50 servings per container
INGREDIENTS
Conjugated Linoleic Acid 80% (derived from Safflowers), Vegetable Gelatin Softgel, Vegetable Glycerin, Purified Water.
ALLERGENS
Ingredients may contain traces of Soy, Cow's Milk, Egg, Wheat, Tree Nuts, Peanuts and Crustaceans.
Take 2 soft gels twice daily with meals (1 soft gel = 1000mg).
Applied Nutrition recommend taking 1 serving (2x soft gels 2000mg ) of
CLA Gold 1000 twice daily with meals. CLA (Conjugated Linoleic Acid 2000mg, of which 80% are active isomers, 1600mg active CLA per serving.