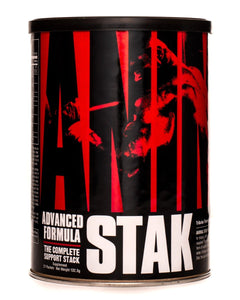 Animal Stak
Regular price £46.99 Sale
Description
Nutritional Information
Directions
Animal Stak is loaded with potent herbs, vitamins, minerals, amino acids and powerful patented compounds, each pre-dosed pack of Animal Stak is designed to naturally enhance the testosterone and growth hormone output of hard-training bodybuilders, all the while minimizing the production of estrogen and cortisol (the gain-killing) hormones. Stak even includes substrates designed to restore endocrine health and amplify endogenous hormonal output. Stak seeks to naturally boost the anabolic hormones linked to power and mass, but to do so without shady ingredients and gray-market compounds.
Goes well with... 
Serving Size: 1 Pack
Servings Per Container: 21
Vitamin D3 (as cholecalciferol): 1000 IU
Vitamin B6 (pyridoxine HCl): 10.5 mg
Magnesium (as oxide): 450 mg
Zinc (as oxide): 30 mg
Pro Testosterone Complex: 1500 mg

Tribulus Terretris Extract (standardized for protodioscin & steroidal saponins)
Fenugreek (seed) (steroidal saponins)
Stinging Nettle Root
Maca Root Extract (Lepidium meyenii)

Growth Hormone Support (with ArginoCarn, Sustamine): 1500 mg

Arginine Complex (Arginine HCl, Acetyl-L-Carnitine Arginate Dichloride)
L-Alanyl-L-Glutamine
Alpha Glycerylphosphorylcholine (alpha GPC)

Anti-Aromatase Complex: 300 mg

Polygonum Cuspidatum Root (resveratrol)
Calcium D-Glucarate
Diindolylmethane (DIM)

Hormone Amplifying Blend (with GlycoCarn, AstaPure): 500 mg

L-Carnitine Fumarate
Glycine Propionyl L-Carnitine HCl)
Quercetin
Astaxanthin

Restorative Support Complex: 500 mg

Milk Thistle Extract (seed) (silymarin)
Astragalus (root)
Ashwagandha Extract (root)
Na-R-Alpha Lipoic Acid (Na-R-ALA)
Coenzyme Q10
Other Ingredients
Gelatin (Capsule, Sulfites), Silicon Dioxide, Magnesium Stearate, Dicalcium Phosphate, Stearic Acid, Titanium Dioxide, Soy, FD&C Blue #1, FD&C Yellow #5 & #6.
Take a single pack daily 21 straight days. On training days, take it 30-45 minutes before lifting. On non-training days, take it prior to bed.
For best results, ''cycle'' this product following a schedule of three weeks on and one week off. Best results if used by those who are 25 years or older. However, due to its ability to help modulate free test levels, it could benefit others as well.